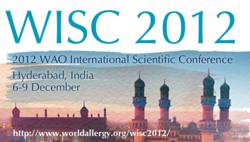 Milwaukee, WI (PRWEB) November 30, 2012
For the first time in India and the city of Hyderabad, the World Allergy Organization will host the 2nd WAO International Scientific Conference (WISC 2012) from 6-9 December, to be held under the patronage of the Ministry of Health and Family Welfare, Government of India. The multi-disciplinary forum will present data on the marked global increase of allergic diseases including asthma, food allergies, allergic rhinitis, skin allergies, anaphylaxis, drug allergies, and occupational allergies and also include presentations on how allergy interacts with many other environmental factors such as pollutants, infections, lifestyle and diet which increase the impact on chronic non-communicable diseases.
The 2nd WAO International Scientific Conference expects to gather nearly 1,500 delegates from around the world. As the discipline of allergy spans various specialties, the scientific program will offer a wide range of courses and subjects: 24 postgraduate courses, 5 plenary sessions, 16 parallel symposia, 6 keynote lectures, 3 poster sessions as well as a half-day program on "Highlights in Immunotherapy," a General Practitioner Program, and a Patient and Public Forum, delivered by a faculty of 90 internationally known experts. Two-hundred fifty-four abstracts were accepted from clinicians around the world and 29 of them received an "Outstanding Abstract Award," and 5 junior clinicians received travel grants.
Allergic diseases and asthma are increasing worldwide and up to 30% of the world population may now be affected by some form of allergy. The complexity and severity of allergic disorders, including asthma, continue to increase especially in children and young adults. New research and international expert consensus recommendations will be presented that will impact on the future management of these globally prevalent conditions.
Members of the media receive complementary full-access registration to the Congress. For information on how to register, please view the WAO Press Information page. Please also see a list, which follows this announcement, of abstract titles with links to the abstracts that may of special interest.
2nd WAO International Scientific Conference (WISC 2012) Information
The WISC 2012 section of the WAO website contains all the information you need to prepare for the meeting including the Final Program, WAO Press Policies, and Press Registration Information. (http://www.worldallergy.org/wisc2012)
We look forward to seeing you in Hyderabad!
Newsworthy Abstracts
(Abstracts that received an Outstanding Abstracts Award are marked with an asterisk.)
3010: The RNA-Binding Protein HUR Coordinately Regulates GATA-3 and TH2 Cytokine Gene Expression in Dose Dependent Manner*
3040: Occurrence and Effects of Nasal Polyps in Patients with Bronchial Asthma and/or Allergic Rhinitis*
1056: Enhancement of sensitivity for human airway epithelial cells to house dust mites by respiratory syncytial virus infection*
1023: The implementation of asthma management guideline and the obstacle factors in Korea*
1042: Influence of environmental endotoxin and allergen levels on prevalence of asthma and allergen sensitizations in urban and rural children in Guangdong, China*
3048: From Uterus to University: Recruitment and Retention of a Primary Prevention Birth*
3012: Per a 10 Favors DCS Type 2 Polarizations by CD40 Cleavage and IL-12 Suppression in Cockroach-Sensitive Patients*
2067: Fel d 1 Peptide Antigen Desensitisation Safety and Efficacy in A Double-Blind, Placebo-Controlled Environmental Exposure Chamber Study*
1085: Safety and Tolerability of Escalating Doses of House Dust Mite Peptide Antigen Desensitisation*
2095: Inhibitory Effect of Ginsenoside Rg1 On Extracellular Matrix Production Via Extracellular Signal-Regulated Protein Kinase/Activator Protein 1 Pathway in Nasal Polyp-Derived Fibroblasts*
2097: Dentomaxilofacial Disorders in Children with Allergic Rhinitis*
2006: Cord blood 25-Hydroxyvitamin D3 and allergic disease during infancy*
3008: Comparison of Anti-Allergic Effect of Pneumococcal Conjugated Vaccine and Pneumococcal Polysaccharide Vaccine in a Murine Model of House Dust Mite Allergic Rhinitis*
2086: Nox4 Mediates Hypoxia-Stimulated Myofibroblast Differentiation in Nasal Polyp-Derived Fibroblasts*
1040: Associations Between Asthma and Bronchial Hyper-Responsiveness with Allergy and Atopy Phenotypes in Urban Black South African Teenagers*
3017: A Functional Polymorphism in IL-5 Receptor Alpha May Influence Asthma Severity in Patients with Aspirin-Exacerbated Respiratory Disease*
3024: First evidence for epigenetic disruption in T-Cells from children with food allergy*
2042: High rates of egg reactivity in infants with eczema randomized to receive egg under 6 months of age*
1077: Differential expression and roles of MMP-2, MMP-9, MMP-13, TIMP-1, and TIMP-2 in allergic rhinitis*
2045: Highly Elevated IgE Antibodies to Vaccine Components in Influenza Vaccine-Associated Anaphylaxis in Japan*
3028: Interaction of DNA Methylation and Genetic Variants of IL13 Is Associated with FEV1/FVC and BHR*
2068: Immunomodulatory and Safety Profile of a Novel Anti-Allergic Vaccine Based On Allergens from Dermatophagoides Siboney and a Combination Adjuvant, in Sensitized Mice*
2037: Emergency Department management of insect-sting allergic reactions in a community hospital in the United States*
2015: Randomized controlled, double blind trial of topical twice weekly fluticasone propionate maintenance treatment to reduce risk of relapse in mild or moderate atopic dermatitis in children*
1049: Impacts of Air Pollution and Environmental Tobacco Smoking On the Symptoms of Childhood Asthma*
1084: Localization and up-Regulation of CysLT2 Receptor in Perennial Allergic Rhinitis*
1018: Effect of Inhaled Corticosteroids with Long-Acting beta2 Agonists vs. Inhaled Corticosteroid Alone on Asthma Control in Children: Results from National Asthma Survey*
1005: Optimization for the Withdrawal of Inhaled Corticosteroid Treatment by Monitoring Fractional Exhaled Nitric Oxide (FeNO) and Lung Functions*
3038: The Relation of Strail Levels and Quality of Life in Omalizumab Using Severe Persistent Allergic Asthma Patients*
1090: Eosinophils enhance airway smooth muscle cell proliferation via the release of cystl leukotrines
2052: Vitamin D insufficiency is associated with challenge-proven food allergy
1081: Resolvin inhibits the Cryopyrin/NALP3 Inflammasome
1060: Clinical responses to methylprednisolone PULSE therapy in children with severe refractory mycoplasma pneumoniae pneumonia
1086: Bacteria-derived extracellular vesicles as an important causative agent for asthma and COPD
2060: Oral food challenges still the most reliable test for a diagnosis of food allergy
2102: The activities of "Allergy Pot" as a patient group in Japan: Developing treatment guidelines
View more abstracts, as well as the complete scientific program, online at: http://www.worldallergy.org/wisc2012
The World Allergy Organization (WAO) is an international alliance of 89 regional and national allergy, asthma and immunology societies. Through collaboration with its Member Societies WAO provides a wide range of educational and outreach programs, symposia and lectureships to allergists/immunologists around the world and conducts initiatives related to clinical practice, service provision, and physical training in order to better understand and address the challenges facing allergists/immunologists worldwide. For more information, visit worldallergy.org.
World Allergy Organization
555 E. Wells Street, Suite 1100
Milwaukee, WI 53202-3823 USA
Tel: +1 (414) 276-1791 Fax: +1 (414) 276-3349
Email: info(at)worldallergy(dot)org Website: http://www.worldallergy.org
# # #