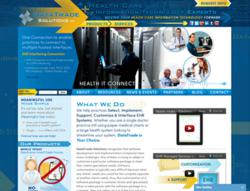 Collegeville, Pennsylvania (PRWEB) November 30, 2012
DataTrade Solutions has laid the framework to be a single resource for all things Health Care IT with the complete redesign and enhancement of http://www.datatradesolutions.com. Months of planning and development have gone into the newly branded image and feel of the website and there are still more enhancements to come. New features on the website include: how-to, tips and tricks, products, services, and videos for two of DataTrade Solutions most sought after products, EHR Managed Services and Mobile Intake.
The ultimate goal for the website redesign was to make the site as user-friendly and informative as possible. The addition of the how-to, tips and tricks section and the meaningful use made simple page are prime examples of this. Meaningful use made simple is a page that breaks down stage one of the CMS incentive program in its most basic terms. This page was designed to give clinical professionals, that are EHR novices, a better understanding of the program without having to download 20 different white papers or scroll through complex spreadsheets devoted to the stage one core and menu objectives. Stage two meaningful use made simple is in the process of being built and will be added to the page by the start of 2013.
Dividing the products and services offered by DataTrade Solutions was another enhancement to the new website. This division was designed to help users determine what offerings from DataTrade apply to their practice. The newly created videos for EHR Managed Services and Mobile Intake give interested users a quick look at what the product can do. These videos are also live on the DataTrade YouTube channel, which is in the process of being enhanced with tutorial videos specific to commonly expressed issues from DataTrade clients.
Another new feature to the website is a chat window that allows users to chat with DataTrade support staff. With a dedicated team logged into DataTrade chat, users can get answers to their questions in a heartbeat. This feature was added to accommodate the needs of users who require more information about our products and services and to accommodate critical support issues for current DataTrade clients. The DataTrade team is available to chat from 8:00 a.m. to 6:00 p.m. every weekday.
The revamped site may be launched, but like all websites, a constant work in progress. Client testimonials continue to filter in, more tips and tricks are added on a weekly basis, and the FAQ page will be arranged according to frequency and importance relating to Health Care IT. An enhanced mobile version of the website is also in the works, and DataTrade plans to launch it in early 2013. Users interested in learning more about any of the the DataTrade line of products and services are encouraged to email info(at)datatradesolutions(dot)com or click the chat box on the bottom right side of the website.
About DataTrade Solutions, Inc
Located in Collegeville, PA, DataTrade Solutions is a Health IT solutions provider currently supporting over 1000 physicians across the United States through assessment, customization, implementation and support of IT systems.