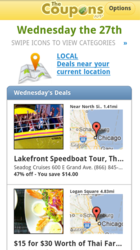 10 million people can't be wrong!
New York, NY (PRWEB) November 30, 2012
Gone is the image of the frazzled mom sitting at the kitchen table looking through stacks of ads scissors at the ready. Today's smart shoppers have a bevy of apps and websites to help get the best deals. But The Coupons App wants to remind consumers that all things are not created equal particularly for mobile coupon apps. They have released the top three things to look for.

No one likes to get to the check out only to realize that a coupon expired a day, two months or even a year ago. Yet browse most coupon websites and you will consistently see expired coupons listed effectively gaming search engines while wasting time of unwitting website visitors. The Coupons App solved this issue by automatically purging all coupons as they hit their expiration date.
Everyone knows humans are not perfect. They make mistakes, upload old coupons, switch two letters in a coupon codes, etc. They even place completely fake coupons on sites/apps to drive traffic to a certain site. The Coupons App upholds quality while maintaining an even greater quantity of coupons directly from each merchant source. Users can trust that every coupon they see in the app will be valid.
10 million people circa 2008 can't be wrong. Word of mouth travels fast. Users are not going to continue to use nor download a poor app, plain and simple.
About The Coupons App:
The Coupons App is currently ranked #1 by millions of app users and adds new deals throughout the day. Deals are made available through accessing the app on multiple mobile platforms, including the iPhone, Android and also available on the Amazon appstore. Deals are added daily and go by GPS location of deals that are within the area of the user. Users receive amazing deals for their preferred stores, restaurants and gas stations right to their handheld devices wherever they go. For more information, visit http://www.thecouponsapp.com or visit the App store to download the free app. Search "coupon app."