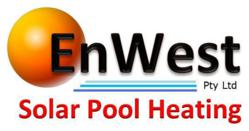 "Our team is knowledgable, experienced, enthusiastic, and service-focused," says Tinline. "We don't sell to make a sale – we sell our products to provide a solution that works for our customers."
Perth, Australia (PRWEB) November 30, 2012
Aquatherm Industries, Inc. – the largest U.S. manufacturer of solar swimming pool heaters – has reached an agreement with EnWest Pty Ltd in to distribute the manufacturer's Solar Industries® line of solar pool heating systems in Western Australia.
A family-owned business which was founded in Australia in 1986, EnWest has established itself as a leading provider of renewable energy as far as the United States and Europe. Having focused primarily on solar pool heating over the course of the past 26 years, they have expanded their services offered to include all solar technologies as well as other renewables including biomass, hydro power, wind power, and heat pumps.
Having formerly sold and installed the Techno-Solis® brand of solar pool heating system, EnWest has made the switch to Aquatherm's Solar Industries® product line. In continuous production since 1976, the Solar Industries® Solar Pool Heater was awarded the very first patent for a polypropylene "tube-and-web" solar pool heating collector. This sun-tracking tube-and-web design allows for maximum solar collector surface area while protecting it from the effects of thermal expansion and contraction. This unique profile later became the signature design feature of all Aquatherm products.
"At Aquatherm, we consider ourselves a customer-intimate organization. That is, we strive to develop long-term relationships with our customers rather than one-time transactions," said Dave Sizelove, President & CEO of Aquatherm Industries, Inc. "We also prefer to do business with those of a similar mindset. We want to know the end-user will be getting a quality installation and support after the sale."
According to George Tinline, Director of EnWest, this is the way EnWest prefers to do business, as well. "Our team is knowledgable, experienced, enthusiastic, and service-focused," says Tinline. "We don't sell to make a sale – we sell our products to provide a solution that works for our customers."
The Solar Industries Solar Pool Heater, says Tinline, is especially suited for their climate. "It survived a gruelling EMMAQUA 23 year accelerated weathering test in the Arizona Desert. Proving resistance to UV degradation, which is imperative for Australian conditions."
More information about EnWest can be found at their website http://www.enwest.com.au or at their Facebook page.
About Aquatherm
Aquatherm Industries is the largest manufacturer of solar pool heating systems in the United States, the only U.S. manufacturer of NSF listed solar pool heaters, and the only U.S. solar collector manufacturer to achieve the ISO 9001:2008 quality standard. Aquatherm manufactures several of the industry's leading brands of solar pool heating collectors, including the Solar Industries and Ecosun collectors.
Aquatherm's entire manufacturing process takes place at its 50,000-square foot technology center in Lakewood, NJ - the most modern facility of its kind in the world. For more information on Aquatherm Industries, its products or its dealer network, contact Molly Friar, Aquatherm's Sales & Marketing Manager at 1-800-535-6307, extension 226.