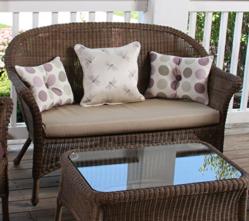 We would not hesitate to recommend Annie's Wicker to anyone, from two very happy Canadian customers. Bill and Lesley
Browns Mills, NJ (PRWEB) November 30, 2012
Annie's Wicker Furniture and Accessories announced today that it is extending its Black Friday and Cyber Monday savings on their online wicker furniture store. Through December 31, 2012, with the use of coupon codes on their website at http://www.annieswicker.com, shoppers can take an additional 10% off their already discounted wicker furniture, cushions and accessories. The coupon discount applies to the entire order. Shoppers only need to enter "Black Friday" or "Cyber Monday" (without quotes) at checkout to receive the discount. Coupon codes cannot be combined.
Stock is limited and may not be accurately reflected on the website at time of purchase. Annie's Wicker does take pre-orders for the upcoming outdoor furniture season. New shipments of wicker furniture arrive in February. Many shoppers take advantage of off-season specials and pre-orders. Besides the obvious savings, they also have the benefit of having their outdoor wicker furniture delivered just in time for the warm weather in the Spring.
This is the perfect opportunity for those who like to plan ahead and think Spring as soon the weather begins to cool off. Annie's Wicker also sells a variety of indoor wicker furniture and accessories, and nearly all indoor wicker products are in stock and available immediately. All replacement cushions are also available and are made to order. Cushions are manufactured in the USA and can be made to fit any piece of furniture needing cushions.
About Annie's Wicker, LLC:
Annie's Wicker Furniture and Accessories is an online discount wicker furniture dealer specializing in outdoor wicker all weather resin furniture and indoor natural wicker furniture.
For more information about Annie's Wicker, or to start shopping with one of the coupon codes, visit Annie's Wicker Furniture and Accessories.