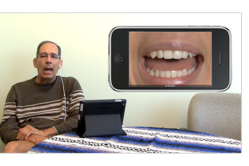 Baltimore, MD (PRWEB) November 30, 2012
"I know it but I can't say it!" - These are often the only words that people with aphasia can say when attempting to share their thoughts and opinions. However, December 10th 2012, marks a significant day for many people with aphasia. For the first time, several aphasic speakers will be empowered to ask questions and share their opinions publically as they engage Captain Kelly in a discussion about his book entitled, "Gabby; A Story of Courage and Hope."
People with aphasia who attend SCALE have been busy preparing for their event, "An Evening with Captain Mark Kelly," where Captain Kelly will give an intimate and inspiring talk about his life with Gabby Giffords both before and after her aphasia, as well as his own adventures in space. He will provide a first hand look at the challenges of aphasia and the painstaking process of having to learn to communicate again.
At SCALE, members with aphasia have accessed Gabby and Mark's book in classes specifically designed to assure that the information is understood. Some members have accessed the book on audiotape. Others have reviewed the story with auditory and visual supports. In addition, a wide array of technology and programs specifically designed for people with aphasia have been used to assure that every voice is heard at this exciting advocacy and awareness event.
Empowering people with aphasia, who have limited spoken output, to share their opinions and questions requires time, commitment and creative use of an array of technologies specifically designed to support spoken or written language production. SCALE members use programs such as SentenceShaper, WordQ, and Lingraphica to formulate their messages. Some members are able to orally read their written messages. Others record a word or phrase at a time to produce longer speeches and then play their recording for listeners using programs like SentenceShaper. Many SCALE members use the VAST program to enable them to fluently produce the materials that they have written or recorded. The VAST program is an innovative research based application of video technology designed to facilitate and improve communication abilities for speech-impaired individuals. Following close-up video of mouth movements combined with visual and auditory cues allows individuals to readily produce speech. SpeakinMotion LLC has made this approach available to individuals with motor speech disorders such as aphasia and apraxia through its aphasia therapy apps and custom recording service.
Learning to use these programs, create their messages and practice what they intend to say requires weeks of preparation and hard work by members. But, the hard work pays off when they are able to deliver their unique messages themselves as they will do at SCALE's fundraiser. Members have generated a list of questions to ask Mark Kelly following his presentation. Howard Snyder, SCALE's spokesperson and member (who also has aphasia), has written a warm welcome to those attending the event. He will present his speech using his VAST custom recording so that he can fluently deliver his welcoming speech to over 500 guests on December 10th.
Watch Howard use the VAST program and his wife, Judi Snyder, describing how truly remarkable Howard making this speech really is.
Click here to watch http://youtu.be/w2ONBGs098A
SCALE members are successful because they have long-term, on-going support that assists them in learning at their own speed and never gives up on them. It is something that they can do, as opposed to focusing on all that they can no longer do (e.g., speak in sentences). Technology gives them hope and they can demonstrate that "they know it and, with a little help, they can say it."
To learn more about the VAST program visit http://www.speakinmotion.com