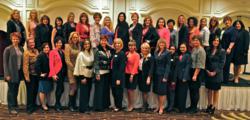 The overall objective of the WBEOC is to attract and to connect women across the county who have the same goals and aspirations in a supportive arena of collaboration and cooperation" - Sheryl Lynn, Founder and CEO of Beautiful Life Productions
Newport Beach, CA (PRWEB) November 30, 2012
Beautiful Life Productions (BLP, LLC.) held their inaugural Women Business Expo Orange County (WBEOC) event that featured twenty five of the fifty Exceptional Business Women and ten Non-Profits of Orange County at the Irvine Hilton on November 15, 2012. This event kicked off a yearlong mastermind group, all with the intent to increase client cash flow and profit margins. The WBEOC was created to organize, promote and engage busy professionals to enjoy 70 platforms. These platforms are for Business Executives and Entrepreneurs, who know the power of the stage, how to show up brilliantly, and give back to the community.
The event attracted 175 entrepreneurs' and business women whose focus is to increase probability for their companies. The event was an opportunity for like-minded women to gather together in the spirit of collaboration and cooperation and to step into the spotlight which then allows their uniqueness to shine as well as helping each person they come in contact with.
The national and international keynote speakers who illuminated the room were Marcia Wieder, Speaker and Author, Lauren Solomon, Image Advisor and renowned international speaker and author and Linda Hollander, Author of Bags to Riches.
The twenty five of the fifty business women and ten non-profits were introduced at the kickoff. These women lead and inspire others in business and/or are making a significant difference in our community. They are innovative, generous, giving, influential, mentors, and leaders. Lisa Goodwin, Accelerated Marketing Services Founder and Chief Creative Officer; Diana Perna, Broker/Owner of PK Real Estate; Lorraine Conaway, Financial Strategist Conaway and Conaway; DeAnna DuPree- Founder of SHE-E-O Spaces, Inc. and Creator of S.I.M.P.L.E. Social Media; Estrella Harrington, CEO of Guard A Heart Foundation; Lucy Santana, CEO of Girls, Inc.; and Jerri Rosen, CEO of Working Wardrobes are just some of the Exceptional Women who were introduced. A complete list can be found at: http://wbeoc.com/the-women.
"The overall objective of the WBEOC is to attract 50 Exceptional Business Women in 50 cities or more, ultimately representing 50 states and to connect women across the county who have the same goal aspirations, where thousands of women from all over will continue to turn up the conversation at a very high level, in a supportive arena of collaboration and cooperation", says Sheryl Lynn, Founder and CEO of Beautiful Life Productions. Lynn added that this will be done through a series of events that produce a powerful spotlight on what works for influential and profitable women throughout the country.
Business and non-profit organizations who proudly displayed their products or services were, Susan Levinstein, Partner of HMWC CPAs & Business Advisors in Tustin, CA; Susan Bock, Business Coach in Huntington Beach; Lisa Giammalva with the OG Wellness Group; Mari Kurtz Owner of OC Metals and Pac Sheet Metal. Some of the non-profits who were there included MADD, Habitat for Humanity, BNI-Misner Foundation, Girl's incorporated. Guard a Heart Foundation, a non-profit that is raising the awareness of heart disease was also on site to provide testing for heart disease to all attendees.
A panel for Questions and Answers on "Profitability" was compiled of Barbara Doust, Coach; Michelle Patterson, Event Complete Founder and CEO; Arvee Robinson, Master speaker trainer, international speaker, and author; Laura Neubauer, Owner of Deliver It; Tracey Trottenberg Founder and CEO of Amazing Women; Mari Kurtz, Owner of OC Metals and Pac Sheet Metal.
One of the highlights that raised everyone from their seats was Reetu Patel and her Bollywood dancers. Taking a break from the speakers and panel discussions, business executives were shaking it up with Patel and her team of dancers.
Beautiful Life Productions' business plan is to start the mastermind group "P.U.S.H." in four other counties in California in the first quarter of 2013. Then take the message to other cities within all 50 states. Beautiful Life Productions is dedicated to building successful companies that are not only thriving in this economy but also have a high level of dedication and commitment to the communities they serve. For more information or to become one of the 50 Exceptional Women in Business please contact Sheryl Lynn at (949) 474-0649 or visit http://www.beautifullifeproductions.org.