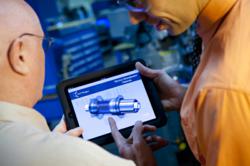 "I've received several emails telling me how impressed customers were with our impromptu, but professional presentations using UpSync."
VP of Maxon Lift Corporation, Howard J. Smith
Boulder, CO (PRWEB) November 30, 2012
UpSync today launched a new trial program for sales and marketing teams in multiple commercial and industrial fields, offering companies the opportunity to test drive its intelligently integrated mobile sales presentation platform using their existing marketing materials.
With this new program, content administrators will be able to upload the company's digital marketing collateral, including images, videos, slides, and documents to a fully-secure temporary library in the UpSync cloud. Field sales reps can then use the UpSync Mobile App to log in to that library and leverage the full potential of UpSync in their daily sales activities.
"UpSync is easy to use, with the familiar drag and drop functionality that we've all become accustomed to," says UpSync Senior VP of Sales, Severan Johnson. "We're inviting sales teams and marketing managers to try UpSync with their own material, so they can really see how it works and experience the impact on their business."
"We've seen field sales professionals and their marketing departments embrace UpSync's affordable content management and mobile SaaS solution because it really streamlines the sales process," Johnson added.
Upsync was developed in response to a demand for more flexible content management and engaging mobile presentations. VP of Maxon Lift Corporation, Howard J. Smith introduced UpSync to his sales team and has seen positive results:
"Using UpSync, our rep put together a presentation in a matter of minutes in the middle of a sales call. Needless to say, the customer was pleased with how fast the rep was able to not only answer his questions, but also show him a product presentation."
"I've received several emails telling me how impressed customers were with our impromptu, but professional presentations using UpSync," added Smith.
About UpSync
Boulder based UpSync™ offers businesses with mobile sales professionals an efficient means of managing, accessing and distributing their content and business applications to any mobile device.
The company's cloud-based solution was developed to simplify access to mission-critical sales materials and integrate data-driven applications, regardless of device or connectivity. UpSync offers a free trial version of the software.