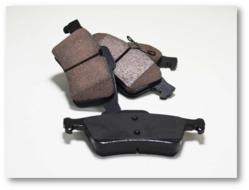 Having driven on these pads extensively on the track, I can say without a doubt that you will notice improved stopping performance and braking responsiveness with CorkSport brake pads on your vehicle
Vancouver, WA (PRWEB) November 30, 2012
CorkSport, a leading manufacturer and reseller of Mazda aftermarket performance parts, is pleased to announce the release of CorkSport Front and Rear Brake pads for the Mazdaspeed 3 and Front Brake Pads for the Mazdaspeed 6.
Designed using a proprietary semi-metallic and ceramic formula, CorkSport brake pads offer superior stopping capability without compromising wear and unlike other metallic brake pads on the market, do not require a "warm-up" period to perform to their full potential.
The CorkSport brake pads are a low dust solution that will help to keep your wheels nice and clean and this long lasting compound is highly durable and provides less fade. Made for superior performance in all weather conditions, the CorkSport brake pads have been thoroughly tested for endurance and braking power both on and off the track.
"Upgrading your brake pads will not only provide performance improvements for your Mazdaspeed, but provides added safety for your vehicle." Said CorkSport owner and race car driver, Derrick Ambrose "Having driven on these pads extensively on the track, I can say without a doubt that you will notice improved stopping performance and braking responsiveness with CorkSport brake pads on your vehicle"
The CorkSport Brake Pads come in sets for fronts and for rears and are priced competitively at just $69.00 for the fronts and $54.00 for the rears.
As with all CorkSport products, the CorkSport Mazdaspeed Front and Rear Brake pads include full color installation instructions, all of the needed installation hardware, and knowledgeable telephone installation support. They are also warrantied for workmanship and defects.
For more information, please visit CorkSport's catalog at http://www.corksport.com/mazdaspeed-3/2010-2012-mazdaspeed-3/2010ms3handling/brake-parts-en-2/
About CorkSport:
CorkSport, a leading manufacturer and reseller of Mazda aftermarket performance enhancement products, was founded in 1998 by Derrick Ambrose and Richard Harris. CorkSport's leading technology and innovation, lean manufacturing expertise, and global distribution network deliver world-class products, brands and service at a competitive cost. The company is headquartered in Vancouver, Washington and has dedicated itself to offering high level performance products and support for Mazda vehicles. Today, CorkSport is among the oldest of the aftermarket parts manufacturers in the United States exclusively serving the Mazda market. Visit CorkSport online at http://www.corksport.com
For more information, press only, contact:
Gwynne Knowles
Marketing Manager
CorkSport Performance LLC
Gwynne(at)corksport(dot)com
(360) 260-2675