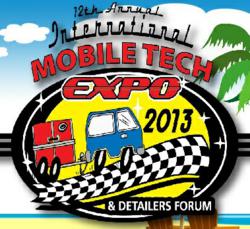 "...shops can do their own estimates without the PDR tech having to drive across town..."
Centerville, Tennessee (PRWEB) November 30, 2012
Sullivan PDR Estimator™ is proud to announce its debut exhibit at the 2013 Mobile Tech Expo (MTE) in Orlando, Florida. In celebration of its first visit to MTE, the company will host a drawing for an iPad, as well as giving away free trial subscriptions to all registrants. The Mobile Tech Expo will be January 17 and 18, 2013 in Orlando, FL. (See details here.)
The Sullivan PDR Estimator (SPDRE) is an estimating software that meets a serious need in the autobody repair industry. For years, skilled paintless dent repair technicians have been fixing large dents on vehicles, but there has not been any standardized way to price those dents. As a result, it has been hard for the insurance and body shop industries to get their hands around the idea of choosing PDR for every dent where PDR is possible. With SPDRE, however, anybody can get a quick, easy, and accurate PDR estimate for dents of any size. "One of the greatest advantages," says inventor Jim Sullivan, "is that the shops can do their own estimates without the PDR tech having to drive across town just to estimate a job for them. Meanwhile, the PDR techs can count on those estimates to be accurate, so they know exactly how to plan for that repair."
With Sullivan PDR Estimator™ (SPDRE), estimates may be done right at the vehicle with any web-connected iPad or Android tablet device, or laptop computer. "We're so excited about the tablets that we're giving one away at the Expo", says Sullivan. The software also features an application for estimating hail-damaged cars, making it much easier for PDR companies to keep track of large repair operations
About Sullivan PDR Estimator™
The Sullivan PDR Estimator™ web application is a Patent-Pending software created by co-inventors Jim Sullivan and Jack Pelham. The service launched in June 2012 after several years in development and an exciting introduction to the automotive industry at the 2011 NACE Exposition. The system includes two separate applications: one for estimating dents of any size, and the other is customized for hail damage.
For more information on SPDRE, please visit http://www.sullivanpdrestimator.com