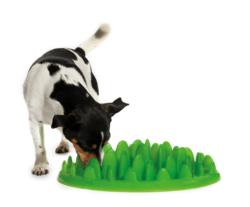 Holiday gift ideas for dogs.
San Francisco, CA (PRWEB) November 30, 2012
Pet products have taken a huge leap in innovation in recent years, improving how pets are viewed as part of the family unit. Pet nutrition, hygiene and even style are getting closer and closer to their human counterparts.
One product, in particular, is the Green Interactive Feeder. This unique, slow dog bowl was designed with two things in mind - fashion and function. What started by the developer as a piece of modern home decor, fashioned itself into a fully functional dog feeder.
At first glance, the feeder looks like a large patch of plastic grass that would look great as a backyard table centerpiece or a modern accent to a contemporary home. When you look closer, you can see that the edges of the art piece are slightly curved and the "blades of grass" are over-sized and rounded. This design is what sets it apart from other slow feeding dog bowls.
From a functional standpoint, this slow feed dog bowl stands in a class of its own. What would normally take a dog to eat his/her food in 90 seconds, in this bowl would take up to 20 minutes. The kibble is placed in between the blades of grass and challenges dogs to push the food around the openings in order to eat. This results in a much slower eating time and a healthier amount of food gradually being introduced into the body, resulting in less gastrointestinal problems and digestive issues.
Another great design is in the Buster Dog Maze. Similar concept, but shaped into a small maze that challenges dogs to push their food through the path and out the end. The color is darker and less conspicuous for pet lovers who want something a little less flashy.
Both interactive food bowls challenge and reward dogs, while slowing them down from eating too fast and developing digestive issues associated with it. They retail for less than $45.00 each and both are made from bpa-free plastic and are dishwasher safe.
You can find them online at k9scrubclub.com or in our Noe Valley location:
K9 Scrub Club
1734 Church Street
San Francisco, CA 94131
415 648-2582
info(at)k9scrubclub(dot)com