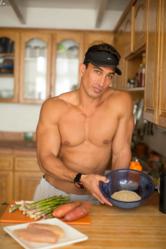 "Eat at least 6 meals a day and avoid carbs with last two meals".
Los Angeles, CA (PRWEB) November 30, 2012
Diego Sebastian– Celebrity personal trainer to the stars and creator of the Shredded Abs App recommends how to stay fit after 40.
As we age, fitness tends to take on a new shape. Exercise routines you once found merely challenging may now seem painful or even impossible by the time you're 40, 50, or 60.
It makes no difference whether you're male or female, an avid workout fanatic or a mall walker -- sooner or later, age will have an effect on your body.
You don't have to be a gym rat to reap the benefits of activity as you age. Celebrity personal trainer to the stars and fitness model Diego Sebastian has some tips for those of us over 40 (he's 42) on how to stay fit after the "big four-O".
After 40 Fitness Tips
Our fitness needs change over the years and how we can stay active -- or become active -- at any age.
Stretching is critical to avoid injuries and increase blood flow. Stretching for at least 15 minutes a day and incorporating yoga is highly beneficial.
Train with lighter weights and higher reps. Increase intensity by channeling energy into the specific body part your training by isolation.
Many people first feel the effects of age in their joints.
Vary your cardio & intensity.
Low impact to save the joints (Biking, precor, hiking uphill, sprinting)
Vary all cardio with interval training.
Include more cross training in your workouts.
Keep your flexibility & quick twitch muscles active by doing dynamic exercises.
Eat at least 6 meals a day and avoid carbs with last two meals.
Eat your body weight in grams of protein per day to maintain muscle mass.
Supplements that are staples for muscle mass:
Glutamine/Amino's
Protein powder
Super Greens
Omegas
Pre workout
Multi vitamins
Diego Sebastian is a internationally known fitness cover model and celebrity trainer whose groundbreaking Shredded Abs App will be launching soon.