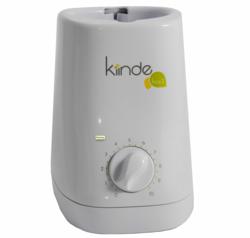 A baby bottle warmer can indeed simplify life with baby.
Cheyenne, WY (PRWEB) November 30, 2012
BabyGearLab.com, a baby product testing and review site, today released the results of its 2012-2013 Editors' Choice Award for Best Baby Bottle Warmers. Chosen from a selection of 7 leading bottle warmers, there was one clear winner in the group. Tested for their health/safety, heating, ease of use and cleaning factors, these 7 bottle warmers not only varied significantly from one another in all categories, but most notably in the health/safety category. View the complete details from BabyGearLab's Search for the Best Bottle Warmer on BabyGearLab.com.
BabyGearLab.com awarded its 2012-2013 Editors' Choice Award for Best Bottle Warmer to Kiinde Kozii. "What stood out most from its competitors was the Kiinde Kozii's overall safety and simplicity," said Juliet Spurrier, MD, pediatrician and founder of BabyGearLab.com. "The Kozii never got breast milk too hot in our tests, remaining at a maximum temperature low-enough to maintain the healthful qualities and nutrients of breast milk." Whereas BabyGearLab.com testers discovered that the Kiinde Kozii maxed out at 127ºF/53ºC, they also discovered in their tests of other top performing warmers that reached warming temperatures as high as 199ºF/93ºC. Research shows that warming breast milk at sustained higher temperatures results in significant loss of nutritional and immunological value.
"Preserving the nutritional value of breast milk is a crucial feature for bottle warmers, since it is very common for breast-pumping mothers to rely on a warmer to more conveniently warm refrigerated or frozen breast milk," observed Dr. Spurrier. "On that key metric, the Kozii was the only warmer we believe conforms to guidelines from research studies on breast milk warming."
In terms of functionality, the Kozii comes in one, compact piece, thereby avoiding any complex assembly and saving shelf space. As a comparison, some competing warmers arrive in eight separate pieces. "The Kiinde Kozii was able to hold all of the bottles we used for testing, including those with extra-wide mouths," Dr. Spurrier added.
BabyGearLab.com reviewers acknowledged, however, that the Kiinde Kozii was considerably more expensive than all of its competitors. In BabyGearLab.com's controlled tests, the Kozii also took longer to reach its warming temperature, although once the warmer reached its ideal temperature, there was no wait time between warming consecutive bottles.
The Editors of BabyGearLab.com have also provided helpful and informed tips for choosing the best bottle warmer to meet each baby and family's specific needs in its Bottle Warmer Buying Advice Guide.
About BabyGearLab LLC
BabyGearLab.com was founded in 2012 by pediatrician Dr. Juliet Spurrier, a Georgetown University Medical School graduate who was practicing medicine in the Bay Area when she became pregnant with her first child. Unable to find a comprehensive online resource to help with buying baby products, Dr. Spurrier founded BabyGearLab.com soon after her second child was born to provide a reliable, quality, information service for new parents.