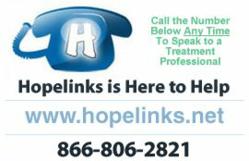 I tried your Live Chat today. The response was quick and they gave me the information I needed. Thank you!
(PRWEB) November 13, 2012
Hopelinks.net is an alcohol and drug treatment directory that specializes in the ability to search for providers by city, state or zip code to help anyone find drug rehab centers regardless of where they are located. In addition to the current services that they provide online, they now offer a 24/7 Live Chat feature as well as being available by telephone to help with an addiction problem. The newly redesigned site has undergone changes that will benefit everyone looking for help.
Since millions of people struggle with addiction to various substances, alcoholism, and other detrimental behaviors, there is certainly a need to be able to quickly find effective treatment for addiction. Hopelinks can be utilized not only by those who suffer from addiction, but also by friends and families of someone suffering from alcoholism or addiction. In addition, others such as physicians, teachers, employers, colleagues and even hospitals and colleges use hopelinks.net. Truly anyone who needs a convenient, reliable source that can quickly locate help anywhere in the United States can utilize this site.
When someone uses http://www.hopelinks.net, the search results give them the name, address and contact details for each provider, and also an extensive list of the treatments and services that are available such as alcohol and drug detox locations. If someone decides to telephone instead, they will reach a patient, caring, person who will listen and ask a few questions. Then the operator can make recommendations for addiction treatment centers based on the information provided. The highly trained professionals who answer the phone, understand what it feels like to be bewildered and confused when facing an addiction and what it's like to feel unsure about how to go about locating the right source for treatment. Hopelinks operators are available 24/7 to listen to concerns and help the individual or a loved one get the help that they need to break free from addiction.
About Hopelinks:
For over 10 years Hopelinks.net has helped addicts and their families throughout the United States offering twenty-four hour assistance to those seeking treatment. Based in Seal beach, California, the Hopelinks' team created an interactive website that allows users to identify alcohol and addiction treatment providers by region, utilizing the zip code directory, by phone and live chat 24 hours a day, 7 days a week.