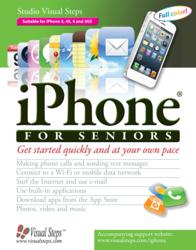 iPhone's are excellent devices for seniors and boomers.
New York, NY (PRWEB) November 28, 2012
Visual Steps' iPhone for Seniors is the perfect book to help anyone learn to use this wildly popular full-functioning, multimedia device. iPhone for Seniors will lead the user step-by-step through the functionality of the iPhone.
With easy-to-follow screen shots and clear instructions, this is the perfect book to acquaint users with the most important functions and the many options that are available with the iPhone.
The iPhone 5, 4S, 4 and 3GS function for making telephone calls, sending e-mails and text messages and surfing the Internet. The iPhone is bundled with many standard applications (programs) that enable the user to take pictures, shoot videos, listen to music and even maintain a calendar. All of these applications are fully covered in the book iPhone for Seniors.
Visual Steps' iPhone for Seniors includes instruction on accessing the Apple App Store with hundreds of thousands of other apps available for free or for a small charge. There are apps for shopping, finding recipes, horoscopes, fitness and health information, card games, photo editing applications, and much more. Visual Steps' iPhone for Seniors will allow the user to explore and discover the possibilities of this handy and practical device with this practical book!
iPHONE FOR SENIORS
Author: Studio Visual Steps
Number of pages: 304 pages
Book type: Paperback, full color
ISBN: 978-9059051584
Price: US $22.95 Canada $25.95
Support website: http://www.visualsteps.com/iphone
Topics covered in this book:

making phone calls and sending text messages
how to connect to a Wi-Fi or mobile data network
surfing the Internet and using email
using the many built-in applications
how to download apps from the Apple App store
work with photos, video and music
Visual Steps is the very successful publisher of the well-known computer books for seniors and is dedicated to help individuals over the age of 50 participate in the cyber-age. More than 20.000 copies of the title iPad for Seniors, 25.000 copies of the title Windows 7 for Seniors and 80.000 of Windows XP for Seniors have been sold.
All of the Visual Steps books follow the same methodology, known as the Visual Steps Method. This method distinguishes itself in a number of ways from traditional instructional methods. Attention is made to the special needs and requirements of the mature individual. Each product:

Allows learning in a friendly, fun and hands-on manner
Uses a larger print format
Contains easy to understand, visually oriented, step-by-step instructions
Has an extensive use of screen shots and illustrations
Features practical, useful information and tips
Includes follow-up exercises to reinforce new skills and increases confidence
Offers special help topics for do-it-yourself error correcting and offers an extensive index
The Visual Steps books are distributed by IPG. More information and hi-resolution images of covers can be found on http://www.visualsteps.com/press
For more information about Visual Steps Publishing and requesting a review copy or digital picture of one of the books, you can contact Mara Kok - mara(dot)kok(at)visualsteps(dot)com.