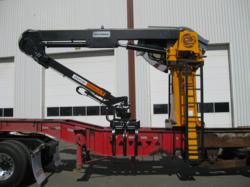 Tough Handling Equipment.
(PRWEB) November 05, 2012
ROTOBEC 60 LOADER
Our smallest loader is used for municipal waste collection, clean up after storms and natural disasters, and the handling of recycling materials.
ROTOBEC ELITE
This loader stands in a class of its own, above all competition. It combines smoothness and precision along with high lift capacity. It's rotation movement is continuous and the loader is packed with extra features and accessories. The only thing it does not have is excess weight. It's tough but very lean; it weighs almost 20% less than its competitors, and mounts easily to trucks or railroad flatbeds for easy transportation. Also available with a grapple saw to assist in storm clean up duties where blowdown is an issue.
ROTOBEC HORIZON
The Rotobec Horizon loader has a larger lift capacity than the Rotobec Elite loader. It is used in various applications including rail, for loading and unloading loose ties and rail segments. It can also be equipped with a grapple saw as an option for handling blowdown over tracks.
The Horizon loader can also be used for loading and unloading logs in forestry applications. It can be configured as a stationary mount loader with the operator on the pedistal or can be operated remotely.
Applications:
-Rail tie handling
-Log handling
-Rail segment handling
-Waste applications
-Hurricane clean-up
-Municipal uses
-Scrap material handling applications
-Forestry mill yard applications
-Mining applications
For more information on Rotobec Truck-Mount Loaders, or any other Rotobec product, please contact your regional Territory Manger.
Mark Shukla - Director of Sales and Marketing
(424) 653-9019
markshukla(at)gmail(dot)com