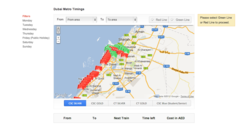 I log in, check out the metro timings, and find a convenient restaurant or cafe to host my meetings in. I get to save time searching, but also save time by knowing exactly when that metro train is coming, so I maximise my time
Dubai, Sharjah, Abu Dhabi (PRWEB) November 27, 2012
The team at thatsmycity are dedicated to bringing an information based experience of the web that is extremely holistic and connected. Whether it is a day out at Dubai Aquarium checking out marine life, hitting the dancefloor at Trilogy, or checking out over 100 works of art at this weeks Palm Strip Mall gallery, thatsmycity aims to become a dedicated site for city information.
With the aim of keeping people 'informed' 24 hours a day, 7 days a week, Thatsmycity has recently developed a partnership with Dubai RTA (Roads and Transport Authority) to connect its users to the Dubai Metro Service whilst still accessing thatsmy city; users can see departure and arrival times, fares, stations routes, and hotels, pubs, bars and restaurants near each station. Visitors to thatsmycity Dubai will find all this information in one dedicated, convenient and easy to view place http://www.thatsmycity.ae
Visitors to the site can either click on the "Dubai Metro" icon on the homepage, or type "Dubai metro" into the search bar. This will bring users directly to the information they need, once they pick their two stations they will be shown instantly the metro times, along with the time for the next departures. The team at thatsmycity want journeys made to be seamless and efficient, connecting with ease to appointments and social activities for all city dwellers!
The team at thatsmycity have incorporated a feature to the site which will provide information on all the local convenient food and drink options closest to the metro stations which are chosen, this will add benefit to a search, making it fully inclusive and information based.
Having started its journey only recently, Thatsmycity has been evolving into the ultimate local online guide, which showcases a world of innovative and helpful features for tourists and locals alike. The site is super-fast and easy to use, just as users would expect from a great site, so finding not just the Metro Schedule but; movie updates, weather forecast, gold and silver rates, restaurants, pubs and bars, hotels, fast food and takeaways, things-to-do, reviews, maps, ratings and personal experiences of all the places and things people love in their area and the world.
The team at thatsmycity want to maximise the search so that it will offer users what they need on one page, in one space, so filly integrate and bring together information so it can be gathered in a way that is more holistic than before. Users will not have to view 5 different sites to get the information they need.
Thatsmycity was established in October 2011 as a response to a growing need by web users to feel that they have a user experience that is holistic and efficient, offering helpful solutions and ideas for days off in any of the large cities in the world, UAE, London, Singapore, Christchurch, Auckland. Thatsmycity adds San Francisco to its expansion and is looking forward to establishing their presence in the United States.
The partnership which has been developed between thatsmycity in Dubai is being replicated with large organizations all over the cities in which thatsmycity operates. Relationships and partnerships are what is going to differentiate thatsmycity from other sites. The site is truly informed, bringing together all the biggest players in the information provision space.
So, what are you waiting for? When it comes to exploring new places and staying informed on almost everything you could wish to know about your city or holiday destination, you can be sure that http://www.thatsmycity.ae has innovative features and content that won't disappoint!