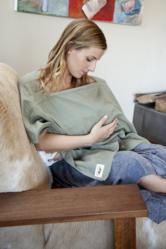 Moms and children should feel comfortable when they are on the go
Los Angeles, CA (PRWEB) November 14, 2012
The newest essential mommy must have on the market has arrived and is set to revolutionize the baby nursing industry! Fashion meets functionality in the form of an ultra-stylish baby nursing cover called Poncho Baby.
Poncho Baby's revolutionary patent-pending design allows you to see your baby while feeding with the privacy of full front and back coverage. It's a chic, multi-functional covering that serves various purposes including stroller cover, car seat canopy or blanket.
Made in the USA with imported fabrics from 100% cotton, it's incredibly soft, comfortable, portable and can be used virtually anywhere with discretion and privacy while providing protection for both mother and baby.
All the rage with celebrity mothers like Giuliana Rancic, Hilary Duff, and Kristin Cavallari, it's not only great for first time mothers, but perfect for the mother with several young ones, to help her easily cater to both breast and bottle fed aged babies without distraction.
Due to the muslin cotton composition, the ponchos are very lightweight, breathable, and machine washable which is very convenient. The breastfeeding covers come in four neutral colors- beige, olive, navy and black, which conveniently go with any outfit you, are wearing, and also create a soothing environment for the baby.
Reinforcing the portability of the product, the Poncho Baby nursing cover is very compact- making it easy to fold into any diaper bag, and ideal for privacy when pumping at work- great for any mom on-the-go! They also feature two inside pockets to hold burp cloths, pacifiers or the ever useful Baby Bibby, which is a cotton cloth that can be used as a bib, burp cloth, wash cloth, napkin, or lap blanket.
Poncho Baby's founder, Carolina Toro-Gerstein, is a busy mom of two who is dedicated to offering products that are stylish, multi-functional, compact and eco-friendly. Since Carolina believes in saving the environment for our kids, all the Poncho Baby packaging is 100% recyclable and the boxes can be used for your children treasures, such as crayons, cards, and jewelry. Carolina's philosophy is simple: "Moms and children should feel comfortable when they are on the go".
The product is available online, and now being carried at The Pump Station; a popular breastfeeding resource center in Hollywood and Santa Monica.
For all Poncho Baby products and news, go to http://www.ponchobaby.com.