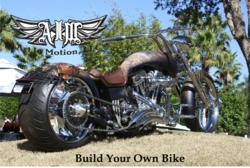 We enjoy helping our guests realize their dreams of owning a custom motorcycle and love the look on their faces when they say, "I built it!" - Christi Kapp, President
Kissimmee, Florida (PRWEB) November 07, 2012
Art In Motion has now expanded its "Build Your Own Bike" program with additional lift capacity, machining tools, fiberglass fabrication, and educational tours. Many people would love to have the experience of building a motorcycle themselves. But not everyone has the time, space, tools or expertise to do this. Here are five reasons that people should take a bike-building vacation at Art In Motion, LLC Custom Motorcycles in Kissimmee, Florida and end up with an amazing custom motorcycle in their garage.
1. They want to possess a totally hot, stretched out, pulse pounding, adrenaline rushing two-wheeled monster machine
2. They want to say they built it, but they have no mechanical skills
3. They have no clue how to tell a good quality driveline from a really bad one
4. They don't own a wrench
5. They want bragging rights
Where do people start to build their own bike? There are a couple of good options to consider - a rolling chassis, a ground-up custom build, or an extreme makeover of a donor bike. All of the options come with pluses and minuses as far as how you can make it look. A ground-up custom is the most expensive option, but it also provides the most flexibility in style and result. Just like any strong house foundation, the frame sets the boundaries for the bike build.
Not everyone is mechanically or design-inclined. But lots of people take pride in participating in things that stretch their skill limits and help them experience something new – especially when they end up with a cool product at the end that is a tangible product of their time, money and energy. There are a lot of steps involved in building a motorcycle. First you start with a sketch or photo. Next, comes design and geometry. It is important to build a motorcycle that will stay together and ride comfortably for you in your intended use A 60 degree rake may look really cool, however, most people would not want to ride cross-country on this type of bike.
Once the bike design is final, then the parts acquisition phase starts. Depending on the level of customization, this can take anywhere from a few weeks to many months. But once everything has arrived, it's time for the first 'builder' vacation where the guest helps our mechanics assemble the bike to validate fitment and adjust any custom details needed. Then we disassemble it for final finishing (paint, powdercoat, airbrushing, or water cutting. After that – it's time for another vacation, and final motorcycle assembly.
About Art In Motion, LLC Custom Motorcycles. Art In Motion was founded in January 2007 in Kissimmee, Florida. Art In Motion, LLC is a Federal and State of Florida licensed motorcycle manufacturing company and vehicle repair shop. In 2008, they ran a custom Tuk Tuk Trike in the Fireball Run - the race to save America's Children and began the "Build Your Own Bike" program. In 2010, they moved into an 0.6 acre facility located at 1503 Ross Ave, Kissimmee, Florida 34744. Since then, they have been designing, building, fabricating and customizing motorcycles for customers in the United States, England, Russia, Norway and other locations. They also offer motorcycle shop tours to visiting tourists and provide service, maintenance and repair in the greater Orlando area.