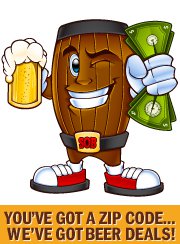 Today's canned beer is not grandpa's canned beer, says SaveOnBrew's Mark Davidson.
Houston, TX (PRWEB) November 07, 2012
The stereotype of canned beer is that it's tinny, watery and all-around cheap. However, this stereotype is beginning to change, as more craft breweries begin releasing their beers in cans for a multitude of reasons. Some brewers see it as a smart way to cut costs and spend money in other areas like staffing or production. Others see it as a more eco-friendly way to brew. Most importantly, cans effectively block out all light and oxygen that can contaminate a beer to taste "skunky." Innovative coatings prevent beer from taking on the metallic flavor of the can. Today's canned beer is not grandpa's canned beer, says SaveOnBrew's Mark Davidson.
SaveOnBrew.com is a beer price search engine that has been tracking the cost of canned and bottled beer across America since 2010. The SaveOnBrew.com "Cheap Beer Blog" recently listed a few of the "best canned beers" for skeptics to try. Currently, the site lists tens of thousands of beer prices for every zip code in America. New brands, beers and retail locations are being added by the day. The mobile version of the website provides maps to the nearest location selling affordable beer.
Davidson explains, "It's a dated idea that canned beer is cheaper. From our analysis, the retail prices are the same, whether bottle or can. The savings are only realized by the manufacturers. So you can see how one of the new upstart craft breweries, operating on a shoestring budget, might choose cans."
Some of the most popular canned beers listed at SaveOnBrew include:

Samuel Adams
Leinenkugels
Shiner Bock
Budweiser / Bud Light
Coors Light
Miller / MGD Light
Genny
Heineken
Amstel Light
Modelo Especial
Rolling Rock
American microbrewery Oskar Blues began canning their beer in an old barn with a hand-canning line and table-top sealer. In 1997, Oskar Blues became the first craft brew packaged in a can. Now there are over 150 craft brewers packaging their beer in cans from Leinenkugels and Shiner Bock to Samuel Adams and Brooklyn. The demand is so high that mobile canning operations have sprung up to help brewers outsource their canning easily and inexpensively.
"Beer snobbery aside, cans are just better for certain types of events," Davidson explains. "Most beaches do not allow glass bottles, so you need to bring cans. You can fit more beer in the cooler for a tailgate party. Canned beers chill quicker than bottles. So they're the ideal choice for a house party. You don't have to hunt for a bottle opener at a stranger's house. Really, I think the war against canned beer is nothing more than a social prejudice."
About SaveOnBrew.Com: Founded in 2010 to help thirsty beer drinkers across the United States find the lowest advertised prices for one of the world's most popular beverages.