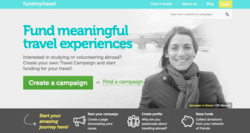 You have the vision. Fund My Travel can help you achieve it.
Fort Collins, CO (PRWEB) November 08, 2012
For students who have ever desired to study French in Paris or wanted to care for orphaned children in Tanzania, but couldn't afford to do so, GoAbroad.com is thrilled to introduce the newest initiative, Fund My Travel.
Fund My Travel is an online crowd funding platform specifically developed by GoAbroad to allow students to raise funds to cover the expenses of their next program abroad.
Fund my Travel was created because of a belief in meaningful travel causes. As international educators, GoAbroad and Fund My Travel believe that studying in a foreign land will open students' eyes to newer heights, and volunteering in developing countries will make this world a better place. Simply put, Fund My Travel wants students and travelers alike to succeed.
And so do students' family and friends.
****************************
How Does it Work?
****************************
With Fund My Travel students can create customizable travel campaigns which they can share across numerous social media channels in order to collect donations from friends, contacts and family members - all they need is a verified PayPal account!
Created with an intuitive interface and a multitude of customizable features, Fund My Travel also provides the tools students need to build a campaign. It has social media links to further expand a network, and integrates cool features in the website to boost students' campaigns. This way, a student can interact with other enthusiasts who share the same passion!
***************************************
Making Meaningful Travel Affordable
***************************************
Reports show that there is an increase of people wanting to either study or volunteer in a foreign nation. Experiencing a new culture is one of the most amazing adventures anyone can have but sometimes, people hold hesitations because of the expenses it entails.
With Fund My Travel, it will now be easier than ever for students and travelers to raise funds for their adventures abroad. Take advantage of the tools and it will be possible to raise the funds in no time. Start today, and take a look at how Fund My Travel can help every traveler achieve their dreams:
Click here to learn more about Fund My Travel!
To go along with the official launch, Fund My Travel is also thrilled to offer $50 of free funding to the first 50 fundraisers who reach their campaign goals! Get started with Fund My Travel Today!
About GoAbroad.com
GoAbroad.com has been the web's premier resource for meaningful international experiences and alternative travel opportunities for more than a decade. The site boasts the largest and most comprehensive travel directories available online, while providing the most up-to-date and accurate information on programs available worldwide. GoAbroad.com's GoMedia services also offer a distinct range of internet marketing solutions for international education, including website design and comprehensive social media management.