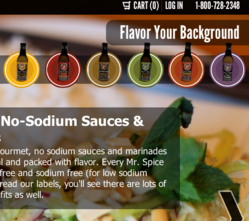 Warwick, RI (PRWEB) November 06, 2012
Brave River Solutions is pleased to announce the official launch for the new Mr. Spice website, which includes an eCommerce store to facilitate easy ordering of Mr. Spice salt-free sauces and marinades.
The newly redesigned Mr. Spice website, available at http://www.mrspice.com, includes a design-first for Brave River Solutions: the ability for site visitors to choose their own background. Upon landing on the homepage, visitors are given the option to customize the site's appearance by selecting a site background specific to their favorite Mr. Spice sauce. All nine flavors of sauces and marinades have a corresponding webpage background that features a dish made with that sauce.
The new Mr. Spice eCommerce site provides customers with enhanced usability in addition to a fresh, contemporary design. The website features streamlined navigation and a simplified ordering and checkout process that will make it easier than ever for customers to purchase and enjoy Mr. Spice products.
Although the design phase of the project is now complete, Brave River's involvement will continue as the company provides ongoing eCommerce services, including website maintenance and online marketing, for the new Mr. Spice site.
ABOUT MR. SPICE:
Mr. Spice Healthy Foods, based in Newport, RI, is the producer of nine organic, gluten free and sodium free sauces and marinades. Mr. Spice was founded by David Lang of Lang Naturals to provide a flavoring option to consumers on sodium-restricted diets. For over 22 years, the Lang Naturals team has been committed to producing flavorful, great-tasting sauces that compliment low sodium and non-restricted meals alike. To learn more about Mr. Spice, please visit the new mrspice.com.
ABOUT BRAVE RIVER SOLUTIONS:
Located in Warwick, RI, Brave River Solutions is a leading provider of technology solutions, including e-Business/web services, IT support, and technology consulting to businesses in the Providence and Boston areas. With over 20 years of industry experience and unique end-to-end service capabilities, the experts at Brave River partner with their clients to create solutions that enhance productivity and efficiency, and improve ROI through state-of-the-art technology. To learn more about Brave River's technology services, please visit http://www.braveriver.com.