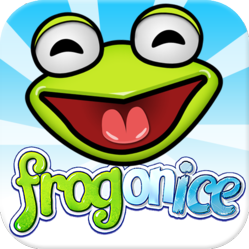 The controls are undoubtedly original and the gameplay itself feels like new. It's a really fun game ...We highly recommend that you at least try it out to experience the controls and gameplay - really worth it! –Anna Grace, Android Zoom
San Antonio, TX (PRWEB) November 08, 2012
Spin Fall announces the release of their newest and coolest game yet, Frog on Ice, for the Apple App Store.
Plop, a misplaced frog that finds himself in a frozen world, needs to get through five levels of ice-cold enemies to defeat the Evil Ice Wizard. Plop, the tough yet adorable green hero, uses his sticky tongue to slide across the ice, grab onto icicles, and attack enemies, all while collecting coins and power-ups. Avoid falling into the freezing water and dodge attacks from the Ice Wizard's henchmen, or Plop will face a cold, bitter end.
"We released Frog on Ice for Android devices via Google Play and the Amazon App Store first," says Franklin Lyons, founder of Spin Fall. "After continued bug fixing, graphical improvements, and overall performance optimization, we feel like Frog on Ice is ready for Apple Devices." Frog on Ice has been well received on Android review sites such as AppBrain.com, AndroidTapp.com, AndroidZoom.com, and AndroidAppDictions.com
The Store adds another fun dimension to the game. Collect coins throughout the level to exchange for items in the store, or purchase coins separately. With the coins, get extra lives and continues. Hit the store button in the middle of a boss battle to replenish health, add extra lives or even add on continues. Purchase or collect Power-Ups that greatly enhance Plop's abilities and the game play itself.
Visit Spin Fall's website for more information.
Click here to watch the promo video and see Plop in Action.
Download directly from the App Store and start the adventure!
Device Requirements:

iPhone, iPod touch, and iPad
Requires iPhone OS 4.3 or later
Universal Application
Pricing and Avalibility
Frog on Ice is a mere $.99 USD (or equivalent amount in other currencies) and is available worldwide through the App Store in the Games category, subcategory action and family. Chill out with Frog on Ice!
About Spin Fall
Spin Fall is and indie mobile app development company based in San Antonio, TX, dedicated to creating fun games safe for the whole family. Frog on Ice is Spin Fall's third app, preceded by Dish Break and The Good Shepherd.