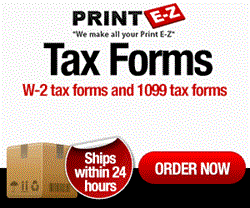 There are no hidden costs or charges that are slapped on at the time of checking out
Monroe, NY (PRWEB) November 07, 2012
In a major attempt to ensure that the company stays on top and emerges as the leader in the tax forms industry, PrintEZ.com declared that all tax return forms ordered before 2pm on their site will be ready for shipping within 24 hours of the order. This move has been accepted by customers in a very positive light, given that often some forms are missed when the initial order is being placed.
Marketing personnel at PrintEZ.com feel that small and medium sized businesses need such prompt service more often than large corporate companies that have a large tax accounting department. Since there are specific people assigned for tax filing, the processes are carried out seamlessly in large organizations including the task of ordering tax filing forms. On the other hand, smaller organizations often have a situation where people have to multi-task, leaving more room for delays and errors. "The company understands the pressures that small and medium sized companies face. There is a constant need to prioritize work and therefore PrintEZ.com believes that the company should do all that it can to service the needs of the clients", said the marketing manager.
PrintEZ.com is the leading online player in the printed tax forms business. Over the years the company has created a large portfolio of all kinds of forms that any customer may require. This includes W2 forms, 1099 tax forms printable, 5498 forms, unemployment and employment forms 940 and 941 and many others too. PrintEZ.com has various formats for each of these forms to ensure software compatibility. The options also allow customers to choose the kind of printer that can be used to print the forms. Large corporate houses can use continuous W2 forms that can be set on a dot matrix printer and left for seamless printing. Smaller companies can opt for laser tax forms that can be printed faster when there are relatively fewer forms to be processed. The company also provides manuals that aid in filling forms and filing those in addition to tax preparation software.
The strategy that PrintEZ.com is adopting is one that involves capturing the customer and ensuring that there is no need to look elsewhere. Given that customers are generally prone to getting habituated with a specific vendor, this strategy seems to be working well. The company plans to extend this strategy to other categories of business printing including business forms, product labels, mailing envelopes and promotional gifts and holiday cards too. In effect, the attempt here is to become a complete business printing partner of various businesses.
This tax form online retailer also believes that there can never be any kind of deception at play with their offers. This is why the prices quoted on the forms are complete. "There are no hidden costs or charges that are slapped on at the time of checking out," says CEO Morris Rose. "The company believes in complete transparency and plan to maintain it that way."
Further plans include adding on other variants and formats of different forms. The requirement for different kinds of 1099 tax forms is being reviewed and customers can expect a new range of 1099 tax forms to be added to the existing portfolio. The decision to launch specific tax forms is made on customer research, purchases made, customer queries and feedback that is reviewed on a regular basis. Once the list is created, it is shortlisted and detailed internally to then arrive at the forms that are fit for publishing and launching.
The buzz around PrintEZ.com with regards to the activity around tax return forms goes to prove that the company has indeed taken to right steps to ensure that the leadership position is maintained in the forms category.
Get more information about how Print EZ offers and new launches on Tax Forms call the company at 1-888-246-0635.
To read more about Tax Forms, click here: http://www.printez.com/tax-forms.html and get regular updates of new offers and deals here.
Print EZ
4 N Main St.
Monroe, NY 10950
(845) 782-5832