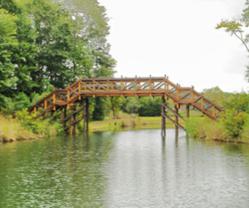 We were comfortable moving forward with York — best price; best bridge design.
Bluffton, South Carolina (PRWEB) November 15, 2012
The Sanctuary at Hampton Lake Bridge Construction Video
York Bridge Concepts, Inc. ™ (YBC) recently completed The Sanctuary at Hampton Lake's 64-foot long timber pedestrian bridge. This lakefront, award-winning community is located in Bluffton, South Carolina and offers all the benefits of second homeownership, with no maintenance. This private residence club of 25 homes boasts 900-acres that features a 165-acre freshwater lake and a natural reserve twice that size. In 2009, Sanctuary was named "America's Best" community and club by the Best in American Living Awards (BALA). This prestigious award was rightfully given because of features like the private Pete Dye golf course, full concierge services, lakefront residences, a worldwide Exchange Program and much more — over 50 million dollars in amenities. All of the worries of homeownership are assuaged so that members are free to enjoy their time, family and friends. This hideaway makes for an incomparable home away from home.
York Bridge™ was allowed a hands-on approach to the aesthetics of the final product, which is now a focal point of the community. This focal point was created using several techniques, components and materials to achieve the end result: The "outer skin" or timbers provide depth and hide the lines from the stairs to the landing and bridge span. The architectural gloss black metal pickets and other metal elements throughout the bridge compliment the two-tone sealant that adds to the depth. Along with this, all the elements were sealed, including the pile foundations. A similarly-colored textured polymer coating was applied to the walking surface of the bridge deck for added longevity, aesthetics, slip, skid and even fire-resistance.
This unique bridge is part of the community's walking trail system, crossing part of the 165-acre, protected lake. It provides access to a group of homes where the homeowners would normally have to get in their cars and drive to the clubhouse/public area. The challenge of the crossing was to let pedestrians continue on the trail, crossing the lake, while letting boat traffic flow freely underneath the bridge. This meant elevating the bridge 20 feet from the bed of the lake and providing a clear span of 24 feet in the center — incorporating a design that softened the bridge's elevation changes and staircases was one of the design goals. "At York, bridge challenges presented by crossings give us the opportunity to create bridges that can be very unique. Sanctuary's bridge shows what can be created through the design and build process of a trusted company," states James M. York, President of York Bridge Concepts, Inc. ™
Originally, designs of a steel bridge were in the works, until Sanctuary chose to move forward with YBC, who were able to meet the design and construction challenges and were able to provide a one-of-a-kind timber bridge. According to Construction Manager, Rob Barber, "One of the things that attracted us to YBC was that fact that they build strictly wooden bridges. YBC's wooden bridges have longevity, aesthetics and are built by a company who strives for environmental-friendliness. We were comfortable moving forward with York — best price; best bridge design."
Follow YBC's Bridge projects on Facebook.
About York Bridge Concepts
York Bridge Concepts, Inc. ™ (YBC) is the nation's largest on-site timber bridge builder. YBC works with industry-leading owners and developers on prestigious projects throughout the U.S. and Internationally, creating more than just a solution for crossing lakes, streams, creeks, wetlands or ravines. In this competitive real estate market, developers who want to ensure that their project stands apart from the competition use York Bridges to add value and create a feeling of exclusivity, warmth, and quality for their customers. Based in Lutz, Florida, with 28 years of experience, YBC has become well-known for their expertise and cutting-edge innovation in timber bridge design and on-site construction.
For more information, please visit YBC's website.