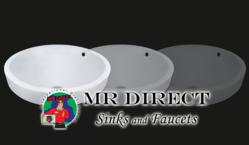 The beauty of this sink, in addition to every sink that MR Direct offers, will add high design style to any home
Toledo, OH (PRWEB) November 14, 2012
MR Direct's line of porcelain sinks has a wide variety of styles to choose from, the most popular being bathroom vessels. Their collection of porcelain vessel sinks contains over 30 styles, all available in white and bisque. One model that has proven to be very popular is the V2218, which has been improved with a slimmer, sleeker body.
The V2218 is now known as the V22182 due to its recent remodel. The V22182 has the same overall dimensions as the previous model, but contains a narrower edge. The new outside edge stands 2 3/8" tall, whereas the previous model's edge stood at 4 1/2" tall, creating a noticeable difference. This sink is made from the same durable vitreous China as the other sinks in the collection and is triple glazed and triple fired to ensure exceptional strength.
Not only is the new V2218 made of superior materials, but it is available in two finishes: white and bisque. As a staple finish in porcelain fixtures, white has been prevalent in bathrooms for decades and will remain a top choice for most homes. Every design style from ultra-modern to country cottage can utilize a white surface, and MR Direct provides numerous sink styles in this timeless finish.
Just like the white finish, MR Direct's bisque finish is versatile enough to fit with most design styles, but will stand out due to its soft, beige color. "Bisque" has a variety of hues attached to its name, but the
bisque finish at MR Direct has a yellow base with an eggshell overtone. Since it is not as stark as the white finish, the bisque color has the ability to soften the look of a bathroom.
The new look of the V22182 is subtle, but will make a difference in the way the sink looks atop a bathroom vanity. The beauty of this sink, in addition to every sink that MR Direct offers, will add high design style to any home for a very low price.