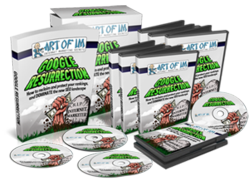 "The future of your online business is at stake," says ARTofIM's Jackson Lin
BRANDON, FL (PRWEB) November 27, 2012
15 years ago, founders Larry Page and Sergey Brin wrote their famous algorithm to determine which websites should appear as the top results on Google. While marketers spend billions to figure out this formula, lately Google keeps changing it, causing massive shifts in online traffic and revenue.
Successful online marketers for over a decade, Rob Wiser and Jackson Lin oversee hundreds of websites for themselves, their clients and students, so they know first-hand how Google can devastate any internet business without warning.
This month (November 27, 2012), they launch Google Resurrection System 2.0 – a course to help online marketers revenue websites recover from changes the worlds most popular and powerful search engine "Google" makes to its algorithm.
The algorithm is the calculation Google uses to decide which websites will appear at the top of its results, and which sites will be buried many pages below. Lately, the company has been making changes to its formula more frequently. Google says the changes are to promote the most informative sites, but each time they affect – for better or worse – the fortunes of millions of websites.
Webmasters, internet marketers and online business owners can't keep up with these changes, and that's where Wiser and Jackson – founders of ART of IM (http://www.ARTofIM.com) – come in. They saw their own sites decimated by Google's controversial "Panda" algorithm changes last year and decided to fight back.
"The future of many online businesses are at stake," says Jackson Lin. "If the website in question hasn't been affected by any of the Google updates so far, "The" judgment day could be coming soon. Start making the necessary adjustments to websites now. Personally, I experienced a 90% drop in traffic due to a Google update and was nearly driven out of business. In our course, I actually show case studies of the site of mine that got hit—and the steps I took to bring it 'back from the dead' and make it stronger and more profitable than ever."
After months of research, discussions with international web search experts, and endless testing, the Art of IM team created Google Resurrection System 2.0: their step-by-step system for making a website Google-friendly, and immune to Google updates. This groundbreaking new course teaches how to achieve – and maintain – high rankings in Google.
According to ARTofIM's Rob Wiser: "This is the only course of its kind that provides actual case studies of real world websites that were penalized by Google, and the specific actions taken to recover their rankings and traffic. Then, we lay out the steps that actually need to followed to make sure the site remains Google-friendly—now, and when future updates roll out unexpectedly."
The all-new Google Resurrection System 2.0: the course every webmaster needs, to stop worrying about Google's ever-changing rules.
Google Resurrection System will be available on November 27, 2012 at 12PM PST. Visit this page for more information: http://jvbrokerinternational.org
About ARTofIM.com
ArtofIM.com is an online training center and community where Rob Wiser and Jackson Lin help webmasters and internet marketers learn how to start and grow their online businesses. Wiser and Lin have been successful internet marketers since the early 2000s and have created numerous products in a variety of niches. Wiser is also a Premier-level "super affiliate" with Clickbank.com, one the largest online marketplaces for digital products.
Contact:
Rob Wiser & Jackson Lin
http://www.artofim.com
support(at)artofim(dot)com
Authorized Party & Press contact:
David Canham
JV Broker International
P.O. Box 6733
Brandon, Fl 33508
1 (866) 281-0847
# # #