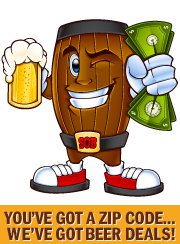 An over-served person has the attention span of a 7-year-old on Twitter.
Houston, TX (PRWEB) November 08, 2012
SaveOnBrew.com is the web's only beer price search engine – updated daily for every beer-selling zip code in America. Unbeknownst to many, they recently launched a Bar Store that sells a great selection of products geared toward bar owners, beer tasting party hosts and the gadget-loving beer aficionado.
"One of my favorite products is the Wood Shot Serving Board," says SaveOnBrew's Mark Davidson. "If you've ever been to a pub or on a cruise that offered a 'flight of beers' sampler, this serving tray is usually what they deliver it on. For less than $15 a piece, you can look like a real professional at your next beer tasting party."
Party games are a popular buy on the site as well, with items such as: Shot Glass Chess Set, The Server's Card Game, Drunken Towers Jenga, The "I've Never" Board Game, Bachelorette Bar Challenge, and Russian Roulette. "We always recommend doing the games after you've had two or three drinks. Any more than that and it gets sloppy. An over-served person has the attention span of a 7-year-old on Twitter," Davidson adds.
SaveOnBrew offers competitive pricing on indoor and outdoor kegerators for the home bar enthusiast. From there, they can even buy the bar itself, bar stools, bar signs, glassware, climate control devices, taps, beer tap boards, keg dollies, pitchers, and everything they would need to get started serving beer to friends and family at home.
Novelties like "The Beer Belt" and the ever-popular tailgating "Beer Helmet" can be found on the site. There are beer pong tables, beer towers, can grips and belt buckle bottle openers. "A lot of these items are really ideal for Sunday or Monday Night football parties. Imagine showing up with your own Remote Control Beer Cooler or going to a bar that has Super Bowl urinal mats! It's the stuff of football commercials," Davidson says.
The bar equipment section is extensive, with everything from blenders and display shelving to money counters and outdoor heat lamps. Davidson explains, "We aim to be your one-stop-shop for anything you could ever dream up that would improve the quality of your beer-selling business or make for a really fun party."
The Bar Shop is just a natural extension of the SaveOnBrew business, which is primarily to direct consumers to retailers with the lowest prices on their favorite beer brands. Sellers may contact the site owners directly to inquire about advertising space or listing a product in SaveOnBrew's online shop. More information can be found at http://www.SaveOnBrew.com.