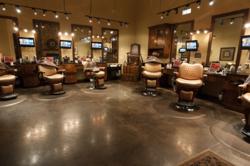 One of my client's at The Art Of Shaving in Chicago kept raving about The Gents Place, and insisted that's where I should be…. the kind at home welcome down to the excellent customer service prompted me to make a career change…says Orlando.
Frisco, TX (PRWEB) November 26, 2012
Because of the high demand, The Gents Place Frisco recognizes the need for expansion and changes. Recently several steps have been taken to ensure that clients and members receive the appointment availability to meet their hectic schedule demands. The Gents Place Frisco has been aggressively hiring new team members. Among the new hires is a master barber named Orlando Ramierez . Orlando is new to Texas, having just relocated from the Chicago area. He previously worked at a well-known upscale barbershop concept known as The Art Of Shaving. Before having even left Chicago, Orlando was applying at The Gents Place.
Orlando has received top notch grooming education by world renowned trainer Carl Cwiok. Carl has been a barber to Dr. Phil and even appeared on the Oprah show. Along with Orlando, two additional stylists and a massage therapist have been brought on board to The Gents Place Frisco team. It's no secret that The Gents Place is one of the few in the grooming business to be open ( 7)days a week, now with expanded hours, open at 9 am Monday through Saturday. As well as always offering 24 hours a day online appointment booking and text message confirmation to follow each reservation.( no more annoying phone calls) After tackling hiring and hour expansion, the next step will be to expand the space to accommodate the increasing demand. Some exploration has already begun for a second level of the club that will include a private smoking lounge for those who want to enjoy The Gents premium organic cigars on site. The management team is doing everything possible to ensure client satisfaction and will continue to strive to meet the growing demand. The Gents Place welcomes any additional suggestions and is asking recommendations to be emailed to CEO Ben Davis at ben(at)thegentsplace(dot)com
About The Gents Place
Founded in 2008 by Ben Davis, a frustrated guy who hated getting his haircut, The Gents Place offers men's grooming and lifestyle products and services in a masculine, yet relaxed country club type environment. They offer men's hair services, hand and foot repairs, straight razor shaves, massages, shoe shines and more. Frequently referred to as America's Premier Men's Grooming and Lifestyle Club with locations in Texas (Dallas, Frisco) and Kansas (Leawood), The Gents Place is known for its commitment to client service and top shelf amenities.