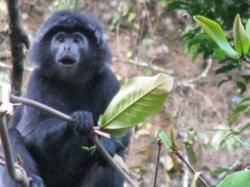 Thanks to our team in Indonesia, these primates will have a second chance of life in the wild.
(PRWEB UK) 2 November 2012
The Aspinall Foundation, a world leading conservation charity headed by dedicated conservationist - Damian Aspinall, has been working, with other conservationists, for the past eight years in Java, Indonesia, to protect Javanese primates, such as the Javan langur and gibbon.
The Aspinall Foundation's Java Primate Project team have been working tirelessly towards this primate reintroduction - and also working with members of the local communities, educating and raising awareness, whilst working alongside forestry commissions and governments to protect large tracts of forest.
Damian Aspinall, Chairman of The Aspinall Foundation said: 'The Javan langur is listed by the IUCN as vulnerable. The reasons for population decline include hunting, deforestation and the illegal pet trade. Our team has carried out extensive population surveys which have produced disturbing results and it is now thought that the wild population is less than 2700 individuals.'
On Saturday 15th September The Aspinall Foundation's Java Primate Project released 13 wild born Javan langurs into a 2000 hectare band of forest in the east of the island of Java. This forest is also an important watershed for the city of Malang.
Damian commented: 'These langurs have been held in captivity in cramped and unsuitable conditions for up to nine years each, after they were taken from the forest to supply the demand for primates as pets. Thanks to the work of our team in Indonesia in collaboration with local communities, forestry commissions and the Indonesian Government, these primates will have a second chance of life in the wild.'
The Java Primate Project team's work is far from over as they will now be tracking and monitoring the langurs every day for an entire year, whilst local guides and forest rangers will be employed to patrol the release site. Their journey into the forest can be followed here
There are also plans afoot for 2013 which will see an entire group of captive born langurs and a Javan gibbon, currently housed at The Aspinall Foundation's wild animal parks in Kent, translocated and eventually released into these protected areas of forest as part of the conservation charity's Back To The Wild scheme.
Made Wedana, Java Primate Project Director said: 'I am glad to see those langurs will come back to their home and life as wild animals again after more than nine years in captivity. This is the first reintroduction The Aspinall Foundation's Java Primate Project has conducted after signed agreements with the Indonesian Government in 2010 and will continue with the next reintroduction for rehabilitated Javan langurs and gibbons in 2013.'
The Aspinall Foundation, headed by conservationist, Damian Aspinall, will continue to send animals back to the wild throughout 2013 and beyond, in a bid to save endangered and vulnerable animals from extinction and they are asking for the public's support, by using a text to donate scheme.
Sarah Tite, Fundraising Manager said: 'To help send animals back to the wild please text BACK to 70300 and donate £3.00. The Aspinall Foundation will receive 100% of the £3.00 text donation. Supporters of the appeal will be able to follow the animals' stories on the website with regular updates, animal biographies and keeper blogs. There will also be competitions to win prizes online via the wild animal parks' social media channels – http://www.facebook.com/theaspinallfoundation and @AspinallCharity
Editor's Notes
The Aspinall Foundation is the charity working with Port Lympne and Howletts Wild Animal Parks in Kent. Set up by the late John Aspinall the parks are designed to be centres of excellence for animal husbandry within which to protect and breed threatened species, with a view to returning them to the wild wherever possible.
The Aspinall Foundation is a world leading conservation charity dedicated to keeping John Aspinall's innovative conservation ethos alive leading the way through education, captive breeding and reintroduction. The Aspinall Foundation has projects both in the UK and overseas, including Java, Madagascar, Congo and The Gabon. Working in conjunction with the parks, The Aspinall Foundation has so far returned to the wild Przewalski's horses, black rhino, Burmese pythons and western lowland gorillas.
At present there are only around 50 captive Javan gibbons outside of Indonesia, held at ten zoos around the world. While these zoos are cooperating in a captive breeding programme, only a few pairs are breeding successfully. Howletts and Port Lympne Wild Animal Parks together hold half of the world's total captive population – currently housing 14 males and 14 females between the two parks. With 28 viable births since 1988, the parks are the most successful breeder of this species.
Javan Langurs are listed as a vulnerable species on the IUCN Red list of endangered species and they face the same threats as other primates in Asia, including loss of habitat and hunting. The brightly coloured primates are not often seen in wild animal parks, but Howletts and Port Lympne are collectively home to over 50 individuals.
Donations will be deducted from your mobile phone account and cost £3 plus your standard network text message rate. The Aspinall Foundation will receive 100% of the donation. By using this service you agree we may contact you in the future. If you'd rather we didn't reply text OPTOUT to any of our messages