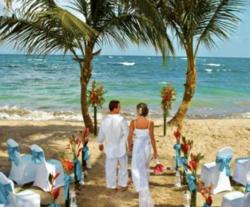 AskMeInc quadrupled the number of booked weddings and increased profits of the weddings by 65% at one resort.
Miami, FL (PRWEB) November 06, 2012
AskMeInc, an outside sales and marketing company for hotels, announced a record year of sales and client success. In just five years since this company started, the two founders Marilyn Cairo and Hilary Lanzer have grown from a 3-person idea to a 12-person firm servicing international chains and independent hotels. In the first nine months of 2012, AskMeInc reports that they have increased their workforce by 25%, reached out to more than 2,000 travel agents and increased their client roster by 30%.
Despite the dreary economy when the Miami-based company started five years ago, the determined spirit, talent and creativity of the team allowed the company to retain clients and grow. "By utilizing our private label reservation services, we were able to increase call conversions by 28% in just one quarter for one resort," reports Hilary Lanzer, Vice-President of Sales at AskMeInc, "and by taking advantage of our destination weddings division, we quadrupled the number of booked weddings and increased profits of the weddings by 65% at a Caribbean resort. Such success helps in retaining and growing our client list." The Miami-based firm continues to expand and credits their success to being collaborative, action-oriented and forward-looking. "Our clients, vendors, team members – we are partners," says Lanzer, "We succeed together."
According to the White House Council on Women and Girls (April 2012 report) and the Small Business Administration (SBA) American women own 30% of small businesses and make up more than 99.7% of all employers. "We are proud to have a positive impact on our clients and on our community," stated Marilyn Cairo, Vice President of Marketing at AskMeInc. Cairo reports that AskMeInc will be investing in their company's growth through increased marketing, revamp and relaunch of the company's website, employee training and new operating software.
AskMeInc, a Miami-based firm started in August 2007, serves as an outside sales and marketing company for hotels and destinations, offering private call center services, travel agent training and incentive programs, and representation at consumer and trade shows. The company has a division that specializes in destination weddings. For more information visit http://www.AskMeInc.com.