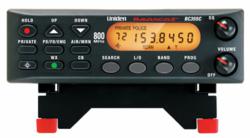 Clarksville, MD (PRWEB) November 04, 2012
According to the Department of Justice's Uniform Crime Reporting Statistics, the United States had roughly 9,082,887 property crimes in the year of 2010. With 2,159,878 burglaries, 6,186,867 larcenies, and 737,142 motor vehicle thefts, it's clear that property crime is a prevalent issue. However, the United States has its fair share of violent crimes as well. In the same year there were a total of 1,246,248 violent crimes including 14,748 cases of murder and non-negligent homicides, 778,901 aggravated assaults, 84,767 instances of forcible rape, and 367,832 robberies.
Crime is something that can't be completely stopped but concerned citizens can prevent criminals from breaking the law. One way concerned citizens are defending their neighborhoods is by utilizing live police scanners.
A police scanner, also known as a radio scanner, is a communication device that is capable of receiving radio transmissions wirelessly. Just like walkie-talkies, these types of communication devices allow for two-way radio transmissions and are frequently used by various industries to promote public safety and improve business operations.
Police scanners also work very similarly to AM/FM radios; however, an AM/FM radio can only receive AM/FM signals. A police scanner receives multiple signals and bands simultaneously. This allows users to track and listen to several channels at once, something basic radios cannot do.
Police scanners receive numerous radio frequencies that are used by law enforcement officials. This allows the scanner operator to listen in on law enforcement officials and get a better understanding as to what types of crimes are occurring in any given community.
The ability to directly communicate with law enforcement grants concerned citizens the ability to stay up to date with criminal activity in the operator's community. This helps improve safety and crime fighting efforts like neighborhood watch programs.
There are several brands of scanners to choose from, but among the more popular brand names is Uniden. Uniden is a Japanese based telecommunication company that has been providing law enforcement officials with reliable and durable radios since 1966.
One major outlet for all things Uniden is Bearcatwarehouse.com. Bearcatwearhouse.com is an online distributor of wireless communication devices and sells a comprehensive assortment of Uniden police scanners that have both law enforcement and residential applications.
Bearcatwarehouse.com is helping ordinary residents fight crime by now providing a comprehensive assortment of new and classic model Uniden live police scanners. To ensure that citizens are armed with all the necessary tools needed to improve safety, Bearcatwarehouse.com now provides same day shipping and warehouse direct pricing.
This means customers who are interested in purchasing a new police scanner will get the best price available, by a trusted manufacturer, in the same day.
Boilerplate:
BearCatWarehouse.com is an online provider of scanners, VHF marine radios, CB radios, weather alerts, and associated accessories. All items are warehouse direct shipped and are available at competitive prices. A full complement of Uniden brand goods is available for immediate purchase. For more information feel free to visit BearCatWarehouse.com .