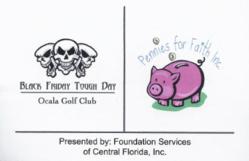 There's a real need in Marion County for children with all kinds of special problems... We believe we CAN make a difference in their lives!
Ocala, Florida (PRWEB) November 16, 2012
Foundation Services of Central Florida, Inc. announces an upcoming TOUGH day on the course… the "Black Friday Tough Day" Golf Tournament at one of Ocala's oldest and most beautiful golf courses, reconfigured to make it one of the toughest. On November 23rd at the Ocala Golf Club, in a "3 Man Scramble," even the best golfers will be challenged with a difficult 7200-yard course of play… making the sponsors ask: "Are you tough enough?"
The event was created by local businessmen and women to raise money for "Pennies For Faith, Inc.," a new charity founded by local Marion County, Florida business to raise funds for children with special needs. The "Black Friday Tough Day" charity golf event's proceeds will be used to help better the lives of children with special needs in Marion County, Florida.
Florida Local SEO is pleased to join Ocala and Marion County businesses and their heart-drawn members in supporting this fun and worthwhile event. Board Members for the event include Keith Seyler, David Griffin, Danielle Griffin, Debby Maddux, Darryl Hampy, Judd Davis, Leo Smith, Todd Taylor and Jeanna Taylor, most of whom hail from Central Florida's premier sinkhole remediation and foundation repair specialist, Foundation Services in Ocala, FL.
Inquiries and event registration requests should be addressed to David Griffin: davidg@foundationservicescf.com
or simply CALL: 352-229-6152.
Open to the public, the event will start with" 9am Shotgun" on Friday, November 23, 2012. For just $90, each player can compete with 18 holes of golf, with golf cart, range balls, breakfast and lunch, prizes, awards and more, all the while knowing a good purpose is being served by a day of camaraderie and fun.
Some event sponsorships are also still available at the $1000 (Gold), $500 (Silver) and $100 (Bronze) levels.
Keith Seyler, Co-Founder of Foundation Services, expressed the impetus behind formation of "Pennies For Faith" as "…a real need in Marion County for children with all kinds of special problems and needs. We want to help each group of children when possible, whether they are suffering from health, learning or abuse issues. We believe we CAN make a difference in their lives!"
That's why the Foundation Services leaders and friends linked arms around this most worthwhile cause and now invite new 3-man teams to join in this day of friendly golf competition through David Griffin: 352-229-6152.
Foundation Services is a general contractor who brings forth Central Florida's most experienced, innovative teams to put home and business foundations on solid ground, whether in new construction or repair situations, carrying a project from soil stabilization through structural and cosmetic repairs then hardscapes and landscaping.
Their promise is "Quality From The Underground Up" … with the same exacting standards they require for the children's charity, "Pennies For Faith." They promise a good "charity ROI" on the funds invested in this golf competition, and hope many more Ocala-area golfers will join them.
FloridaLocalSEO.com founder, Margaret Hampton, has actively supported and served on the Boards of children's charities and health charities at both local and national levels for over four decades…and deems this cause more than worthy. "There's no better outing this Black Friday than friendly golf competition on a beautiful course benefiting children!"