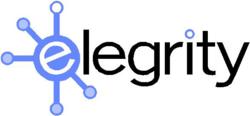 Transformative global economic, competitive and political forces in the Legal Industry demand unique and foundational business model transformation for law firms
San Francisco, CA (PRWEB) November 13, 2012
Elegrity, Inc., legal process management (Law Firm BPM) thought leaders, developers of the innovative Law Business Management System (LBMS)™ Platform, and a Silver Sponsor for this year's 17th Annual Law Firm Leaders Forum, will present practical applications of the three LPM Disciplines – Legal Process, Legal Project and Legal Practice Management at the Law Firm Leaders - Breakfast Briefing Workshop on November 16, 2012 at 8 a.m. at the St. Regis Hotel in San Francisco, California.
Elegrity's President and CEO, Joy E. Spicer, will discuss how to discern and apply appropriate LPM disciplines and techniques to achieve sustainable increased revenue and higher profitability. Her discussion focuses on strategy implementation and draws on illustrative examples of how organizations have realized the positive, bottom-line results promised through LPM when done right.
"Transformative global economic, competitive and political forces in the Legal Industry demand unique and foundational business model transformation for law firms," said Joy E. Spicer. "We'll discuss when and how to apply each LPM technique to build a sustainable business model through strategic, evolutionary changes," she continued.
This year's Forum, entitled "Managing Your Firm in the New World Order: How Global Economics and Politics are Impacting the Legal Market," takes place at the St. Regis Hotel in San Francisco, California, November 15-16, 2012.
"Elegrity is committed to sharing our LPM thought leadership with law firms and corporate legal departments internationally," said Joy E. Spicer. "With over 40 legal industry process transformations under our belts already, we aim to demystify and unlock the power of LPM for the legal industry through education and ongoing discussions with key leaders at law firms at Forums like this one with Thomson Reuters," continued Spicer.
About Elegrity
Since 1998, Elegrity, Inc. has provided technology consulting and software solutions to Law Firms and Corporate Legal Departments. The firm's consultants help executives and their teams ensure profitability, drive growth, and manage risk by delivering solutions that speed and improve business processes. For more information, visit http://www.elegrity.com.
Legal Notices
Copyright © 2012 Elegrity, Inc. All Rights Reserved. 160 Pine Street, #720, San Francisco, CA. All trademarks, trade names, service marks, and logos referenced herein belong to their respective companies.