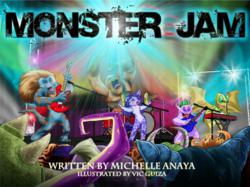 PICTURE BOOK DEPOT absolutely loves outstanding picture books, and that's why we're supporting Project Director Michelle Anaya and her adorable KickStarter project, MONSTER JAM.
Little Elm, TX (PRWEB) November 15, 2012
Michelle Anaya, an author dedicated to publishing children's interactive literature, has launched a Kickstarter campaign to generate funding for a Rock Music themed picture book & digital app. This book and app combo will be distributed to elementary schools, libraries and children everywhere.
Monster Jam is beautifully designed by the award winning illustrator, Vic Guiza. With fun things to see and do on every page, it's perfect for teaching and entertaining ages 4-9.
The picture book consists of 20 highly detailed full color illustrations featuring cool characters, accompanied by an intriguing, thoughtful, and exciting story that will get kids talking!
The app will consist of an original musical score to highlight the Rock Music theme of the story.  Features include; Read to Me, Read By Myself and loads of fun interactive animation with sound effects. Monster Jam will be available for sale on iPad, Nook Color, and Android tablets.
With the advent of electronic games, kids are filling more and more of their time with things that won't always stimulate their brain in positive ways. Blue Sandpiper Imprints seeks to encourage more voluntary reading among children. Apps and traditional books are a dynamic duo; one draws kids into the world of reading with appeal, and the other encourages a lifelong love of books. Monster Jam's fun features and great story will get kids reaching for books the way they do for games!
Kickstarter, founded in 2009, is a crowd-sourcing platform that helps creative projects become a reality. The platform uses an all-or-nothing funding platform; projects must meet their funding goal before any pledges are charged.
To thank our contributors, there are several tiers of interesting rewards. These include the Monster Jam app, t-shirts, a signed copy of the book, limited edition prints designed & signed by the illustrator, executive producer credit and a cameo appearance in the book.
Read more about this project, view the video and support the project through October 24th at http://www.kickstarter.com/projects/391026586/monster-jam