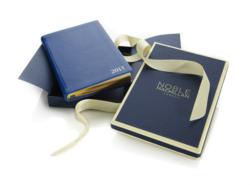 London (PRWEB) November 22, 2012
Noble Macmillan are known for their luxury leather accessories and fabulous photo albums. They have an interesting competition for users who have a Facebook account. Noble Macmillan is willing to give £500 to spend in store.
All the public have to do is "Like" Noble Macmillan on Facebook by 3rd December 2012, and then they'll give that person £500 to spend in store. The competition is already underway allowing Facebook users to enter to have a chance of winning £500 to spend on their family this Christmas.
Information about Noble Macmillan might encourage Facebook users to hit the "Like" button; all items can be personalised in gold or silver leaf making gifts from Noble Macmillan extra special. They have many items to choose from to make the perfect gift for him or her. This is a great opportunity to win £500 to spend at Noble Macmillan.
They have an excellent range of items that can be purchased online, over the phone or by visiting the store. The items include photo albums, journals, diaries, photo frames, technology accessories, social books, notebooks and much more. The store is located at 9 Elvaston Mews, London SW7 5HY.