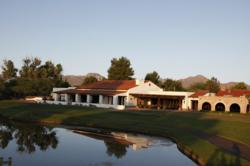 "We're very excited to have so many great golf pros participating this year," Dennis Palmer, VP of Golf Operations said. "The proceeds will go a long way to help support all the junior golfers in the Ricki Rarick Junior Golf Program."
(PRWEB) November 29, 2012
Tubac, AZ. (November 27, 2012)--Tubac Golf Resort & Spa is proud to announce its 2012 Junior Golf Benefit Tournament on Saturday, December 8, 2012. The proceeds will go to the Ricki Rarick Junior Non-Profit Golf Program. This esteemed program is dedicated to the overall growth and development of young men and women to further their knowledge of the game of golf. By participating in the Ricki Rarick Junior Golf Program, youth from ages six through seventeen will learn about respect, honesty, knowledge, character building, self- discipline and sportsmanship.
This year's tournament activities include a 5-player scramble with three amateur golfers, one junior golfer and one professional golfer. "We are excited this year to have professional golfers Don Pooley, Dan Pohl, Andrew Magee, Ronnie Black, Christa Johnson, Rich Barcelo, Sara Brown, Greg Twiggs and Annie Brophy among the great pros participating," said Dennis Palmer, Director of Golf at the Tubac Golf Resort & Spa. "The proceeds will go a long way to help support all the junior golfers in the Ricki Rarick Junior Program. As Golf Professionals and players of the game, supporting junior golf is a great way to help these young adults."
The tournament will be played on all 27-holes at the Tubac Golf Resort. Team prizes will be awarded to the top three teams with closest to pin on all par 3's, longest drive on each nine and hole-in-one prize on each nine with tee prizes for all. Amateur entry is $150 per play and includes the golf tournament, prizes, a BBQ luncheon and buffet dinner at the resort. Deadline to sign up for the tournament is Wed., Dec. 5 at 5pm. Mail entries to Dennis Palmer, PO Box 1297, Tubac, AZ. 85646.
The Tubac Golf Resort features a 27-hole championship course designed in 1959 by renowned golf course architect Robert "Red" Lawrence. The original 18 Hole course stood as the most desirable in the Southwest, and was the location of many of the scenes of Kevin Costner's 1996 golf movie 'Tin Cup.' In the fall of 2006 local golf course Ken Kavanaugh added nine new holes, significantly enhancing the cottonwood lined and lushly verdant layout set against the breathtaking Santa Rita Mountains.
Tubac Golf Resort & Spa is located at One Otero Road in Tubac, Arizona. For more information about the tournament, please contact Dennis Palmer at 520-398-3526 or email dpalmer (at) tubacgolfresort (dot) com.