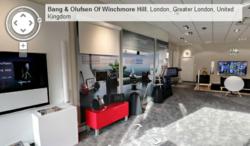 Many businesses instantly understand the benefits of virtual tours in Google, but the remaining can read 360 Photographer's list of 25 reasons to use Google business photos.
London, UK (PRWEB) December 06, 2012
Markus Jalmerot, a London based photographer and search marketing specialist, has been approved as one of the first Google trusted photographers based in north London. 360 Photographer shoots virtual tours of London based businesses and uploads the photos to enhance viability in local search results.
Google business photography is the latest extension of Street View technology, allowing public facing businesses to showcase the inside of their premises. The search giant works with local photographers which have to complete extensive theoretical and practical tests before they can be approved.
Newly approved 360 Photographer Markus Jalmerot estimates that over 200 new virtual tours have been uploaded during the past week in the U. K. and growing quickly. "Restaurants, bars, nightclubs, hotels, guest houses and independent retail shops are some of the most eager businesses requesting 360 photos today", says Markus Jalmerot.
In an attempt to showcase some of the most unique recent virtual tours in London, 360 Photographer Limited has created a top 10 list for December showcasing some fantastic Google business photos.
Some of the major reasons businesses decide to take advantage of Google business photos include, but are not limited to, being able to engage potential customers, stand out in search results, showing the premises in the best light, being easy to share while giving a psychological advantage with the expected mere-exposure effect. In an effort to motivate potential customers, Markus Jalmerot from 360 Photographer Limited reveals 25 reasons to showcase premises on Google with a virtual tour.
Virtual tours taken by 360 photographer Limited can be embedded on both websites and on Facebook. More info about Google business photos can be found at 360 photographer or to verify the Google trusted photographer status go to the official site.
About 360 Photographer Limited
Since the end of 2012, 360 Photographer Markus Jalmerot offers affordable virtual tours for businesses in London, such as hotels, guest houses, restaurants, hair and beauty salons, bars & nightclubs, event venues, independent retail shops, boutiques and gyms. Working with 360 Photographer enables local businesses to enhance their online presence and showcase their premises in Google search, Google +Local and Google Maps. Markus Jalmerot has been working with search engine marketing for over 8 years and he estimate Google business photography will become increasingly important to succeed in local search. Disclaimer: This press release has been created by Markus Jalmerot on behalf of 360 Photographer Limited in London.