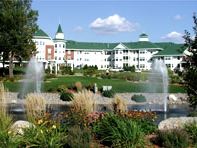 We're pleased to be a part of this impressive collection of senior residences.
Des Moines, Iowa (PRWEB) December 03, 2012
LCS, a leading provider of senior lifestyle services, is now a partner in a collection of nine independent and assisted living communities located in Greater Minneapolis. Through a joint venture agreement with Harrison Street Real Estate Capital, a Chicago-based real estate investment firm, LCS has acquired an equity position in the following communities:

Earle Brown Terrace–Brooklyn Center
Heathers Estates–Crystal
Heathers Manor–Crystal
Meridian Manor–Wayzata
The Rivers–Burnsville
The Timbers–Apple Valley
Tradition–Brooklyn Park
Waterford Estates–Brooklyn Park
Waterford Manor–Brooklyn Park
The market-rate rental communities offer a total of 1,166 total residential units, with seven offering assisted living care, and one providing memory care services. LCS will provide a full range of management and marketing services to the communities through CRSA®, An LCS Company.
"LCS and CRSA are pleased to have the opportunity to offer our hospitality, management, and marketing expertise to this impressive collection of senior residences," says Steve Nornes, Director of Operations Management for CRSA. "Each community will receive customized support based upon our 41 year experience in the management and development of senior living communities."
According to Nornes, staff members at the communities will also benefit under the direction of LCS and CRSA.
"Given the national scope of our resources, we're excited to offer employees additional training, professional growth, and career opportunities," says Nornes. "Through a collaborative approach, we look forward to building on the communities' existing strengths to improve efficiencies, enhancing operations, and increasing occupancy."
LCS has had a presence in the Twin Cities area since 1978, and is currently developing Trillium Woods, a continuing care retirement community (CCRC) in Plymouth, MN that will be managed by Life Care Services™, an LCS Company specializing in the management and marketing of CCRCs.
About LCS™
Based in Des Moines, Iowa, LCS is a leading provider of high quality senior lifestyle products and services. The company operates business lines focusing on planning and development, operations management, marketing and sales management for senior living communities, home health care and companion services, senior living community ownership, insurance and national volume purchasing services. LCS is an equal opportunity employer hiring skilled and professional employees to better serve the customer. Established in 1971, LCS is a recognized national leader in the field of senior living, with its companies currently providing services to over 30,000 residents in 31 states and the District of Columbia. For more information, visit LCSnet.com.
About CRSA®
CRSA, An LCS Company, provides flexible management, marketing and consulting services for independent living, assisted living and memory care senior communities in the United States. CRSA Advertising coordinates advertising and marketing communications seamlessly with community efforts, thereby improving inquiries and occupancy. For more information, visit crsaLCS.com.
About Harrison Street Real Estate Capital, LLC
Harrison Street is a real estate private equity firm founded in 2005 that directly and through its affiliates, has approximately $4.0 billion in Assets Under Management (AUM) through commingled funds and public securities products. The commingled funds focus exclusively on the Education, Healthcare and Storage segments of the US real estate market. The firm currently owns approximately $3.5 billion in real estate assets including over 25,000 student housing beds, more than 6,000 senior housing/assisted living units, over 1.4 million square feet of medical office space, more than 72,000 self storage units, and over 4,600 dry & wet boat storage slips. Additionally, Harrison Street Securities LLC currently manages over $500 million in REIT securities through distinct long only product offerings. For more information visit harrisonst.com.