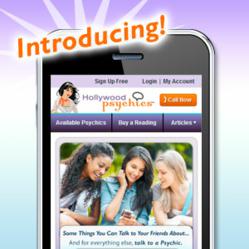 Langhorne, PA (PRWEB) December 10, 2012
You can do it on a train. You can do it on a plane. You can do it in a park. You can even do it in the dark, if you really want to. Now you can get the psychic services offered by the popular provider Hollywood Psychics right on your mobile device – literally any time, anywhere.
"We believe the future is mobile," says Maryanne Fiedler, Marketing Director for Hollywood Psychics, "and at the same time we want to make sure our customers have access to the wide range of services via their phone, so we developed a full-featured mobile site that provides almost the same functionality as our regular website does."
For those customers who are used to the Hollywood Psychics online experience, it should be a seamless transition to mobile, says Ms. Fiedler. And for new customers, it's the perfect place to discover what Hollywood Psychics has to offer. "You can do everything from accessing your account, adding dollars and updating settings, to checking for available psychics, rating your psychic readings, viewing recent articles, and connecting to social media," she says. "And best of all, you can get a reading right from your mobile device."
In fact, says Galina Woshczyn, Hollywood Psychics Director of Development who oversaw progress of the mobile site, "phone psychic services are a perfect match for the way mobile sites work and the way people use them."
According to Mrs. Woshczyn, customers are looking for quick access to psychics for answers to questions that they have right now. "They don't want to wait till they get home to where the computer is, or to a place where they can use their laptop," she explains. "It's that immediate gratification -- the ability to provide customers exactly what they want, exactly when and where they want it -- that makes it a perfect match."
****
About Hollywood Psychics:
Hollywood Psychics is an established provider of psychic readings by phone and online chat, appealing to a young professional demographic. Hollywood Psychics experts specialize in astrology, horoscopes, numerology, tarot cards, clairvoyant readings, and many other psychic disciplines. Hollywood Psychics believes in its community of authentic psychics and stands behind the authentic psychic readings they deliver to clients. Visit them online at http://www.hollywoodpsychics.com.
For more information, contact:
Maryanne Fiedler, Marketing Director
maryanne(at)hollywoodpsychics(dot)com
215-953-8568