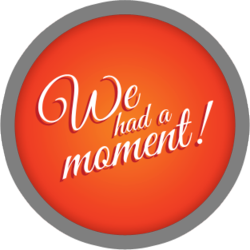 "I know that sometimes fate needs a hand," says company founder Pamela Meyer Condron, "and at that moment, eureka, the company was born."
New York, New York (PRWEB) December 21, 2012
Moments happen all the time; at coffee shops, concerts, ball games, traffic lights. Strangers lock eyes or share a conversation and then go their separate ways thinking fate will lend a hand in finding that person again. That doesn't happen.....until now.
We Had A Moment(WHAM) now offers anyone, anywhere the ability to connect with someone they shared a moment with. With a simple, free registration, moments are created and responded to instantly on the iPhone app and stored on the WHAM website. Identities are protected; the users decide when they want to share this information.
Company founder, Pamela Meyer Condron, was inspired to create We Had A Moment (WHAM) after a friend had a coffee shop encounter with a man she thought was her destiny. Either due to shyness or hesitation, no information was shared between the two and they were never to run into each other again. That just was not acceptable!
Founded in 2011, We Had A Moment (WHAM) is devoted to connecting people who have shared a special moment. Thanks to WHAM, anyone can find that special someone that caught their eye, their fancy and their attention.