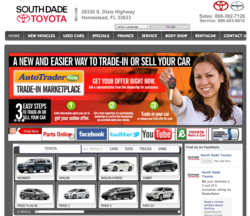 Miami, Florida (PRWEB) December 27, 2012
South Dade Toyota is a South Florida Toyota car dealership featuring new and pre-owned Toyota models including cars, trucks, SUVs and vans. SEOdriven has optimized SouthDadeToyota.com making it not only more Search Engine Friendly but also user friendly; easy to navigate so visitors can find exactly what they are looking in a timely manner. Customers can quickly compare different price points, research financing options and find coupons for redemption. In addition, this highly functional website even allows customers to apply for financing online, get estimates, order parts, rent cars and more.
SEOdriven's objective has been to increase the site visibility in the search engines for the various local products and services the Toyota dealership offers through a targeted search engine marketing campaign from which they get competitive rankings for targeted searches and related searches such as "Toyota Dealer Miami" or "Toyota Dealership in Miami" so the company's website is quickly identified and frequented. SEOdriven's role has been key to South Dade Toyota's sales increase in the 3rd and 4th quarter of 2012.
The site also features links to all the social media sites and their respective pages. Customers can benefit from connecting directly to Facebook, Twitter and You Tube, conducting easy searches and even chatting online with a customer service representative so their questions can be answered immediately.
SEOdriven is a local SEO Miami company providing Search Engine Marketing and Optimization services to clients in different industries. SEOdriven does everything from creating search engine friendly websites to implementing SEO specific principles such as content creation and link building, which benefits both the client and the consumer. For more information on SEOdriven and their services, see http://www.seodriven.com.