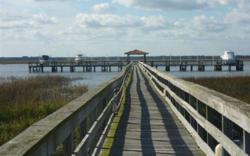 Fernandina Beach waterfront real estate has held its value well and continues to rise.
AMELIA ISLAND, FL (PRWEB) December 04, 2012
The Townhomes of Spring Tide Lane in the private, gated RiverPlace community at Fernandina Beach, are represented by premier coastal realtors Prudential Chaplin Williams. These waterfront homes with multiple amenities await the discriminating buyer.
A private courtyard entry leads to the spacious lower level with its own half-bath and kitchen complete with chilled wine storage, as well as a laundry area with sink. Upstairs, the living room and formal dining area welcome guests. The main kitchen with diamond tile and granite countertops expands to include a desk space, and features stainless steel appliances and a breakfast bar. French doors lead to one of the two patio areas, where arched windows frame the view to the marsh and its wildlife. Neutral colors, white trim and cool tiled floors keep the accent on the innovative architectural design.
The master suite is a revelation. A private sitting area behind graceful pillars and a windowed bath features two sinks and a frameless shower, in addition to the raised Jacuzzi tub and custom cabinetry. On the top level, a private office provides the ideal hideaway for business or creative pursuits. Another bathroom with glass-fronted shower compliments an additional bedroom. Here is the second laundry room, also equipped with washer, dryer, sink, and cabinets.
These townhouses feature attached two-car garages as well as a private patios for additional entertaining space. The RiverPlace community includes an oversized swimming pool, tennis courts, a golf course, and a clubhouse with head-on ocean views. At over 3700 square feet, these Spring Tide Lane properties are versatile and easily adapted to full- or part-time use. Storage possibilities are almost endless, with clutter-hiding cabinets in every room.
Fernandina Beach waterfront real estate has held its value well and continues to rise. For properties in this exclusive area, as well as in Amelia Island and Summer Beach, Prudential Chaplin Williams is the go-to agency. Experience, knowledge, and agents who know the value of the personal connection have led to Chaplin Williams' primacy. For more information on Spring Tide Lane, or any of their other listings, contact Chaplin Williams today. Call 904-261-9311 or visit online at http://www.ChaplinWilliams.com.