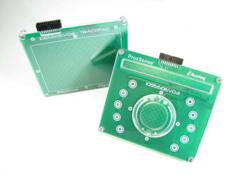 The IQS550 platform represents a major breakthrough in flexibility for Azoteq. Azoteq will offer the IQS550 Capacitive Trackpad Controller as a first configuration and the same platform will enable other configurations to be offered to the market shortly
Austin, TX (PRWEB) December 20, 2012
Azoteq, the world leader in capacitive proximity solutions, today announced the release to market of the IQS550-A000 Capacitive Trackpad and Touch Screen Controller. The IQS550-A000 is Azoteq's latest addition to the ProxSense® family of capacitive proximity and touch controllers. The IQS550-A000 offers high-resolution touch and hover to track up to five fingers. The extended proximity detection allows the IQS550-A000 to operate in a low power mode, but to wake up instantly to detect touch when proximity is detected.
The IQS550-A000 Capacitive Trackpad Controller is the first in a family of products that will be implemented on the flexible IQS550 platform. The IQS550-A000 uses advanced analog and digital circuitry to achieve unparalleled proximity and touch performance. The high sensitivity enables the IQS550-A000 to work reliably through thick overlays, and even through membrane switch overlays. The device can operate from 1.65 to 3.6 V and achieves power consumption as low as 15 microampere while still sensing proximity. The IQS550-A000 features an I2C interface for convenient control from a host MCU.
"The IQS550 platform represents a major breakthrough in flexibility for Azoteq. Azoteq will offer the IQS550-A000 Capacitive Trackpad Controller as a first configuration, but the same platform will enable other configurations to be offered to the market shortly," said Kobus Marneweck, Azoteq's VP of Marketing.
The IQS550-A000 Capacitive Trackpad Controller is Azoteq's first capacitive touch controller capable of interfacing with Trackpads and Touch screens as large as 7 inches. In the next few months, Azoteq will introduce smaller versions of the IQS550 for smaller Trackpads or applications that do not require the high resolution of the IQ550.
Features:

Proximity, touch and snap on each channel
Multi-touch and multi-hover support
Resolution of 4984 x 2304
100 Hz report rate
I2C interface
ATI: automatic tuning for optimum sensitivity
Supply voltage: 1.65 V to 3.6 V
Active low-power operation (< 15 uA)
Event mode or streaming mode operation
Dedicated proximity channel for long-range proximity sensing
Internal voltage regulator and reference capacitor
On-chip noise detection and suppression
Applications:
Trackpads
Trackpad keyboards
Consumer electronics
Remote controls
White goods and appliances
Office equipment
Touch screens
Pricing and availability
The IQS550-A000 will be priced at $1.61 in 1K quantities. Samples and production volumes are available now from Mouser Electronics (http://www.mouser.com/azoteq). More information on the IQS550-A000 can be obtained at http://www.azoteq.com/iqs550.
The IQS550EV03 Evaluation Kit enables designers to explore all the capabilities of the IQS550-A000. The IQS550EV03 is available from Mouser for $29.90.
About Azoteq (Pty) Ltd
Azoteq (http://www.azoteq.com) is the world leader in capacitive proximity solutions for switches, sliders, scroll wheels and touch screens in consumer and industrial applications. Azoteq has design and manufacturing centers in South Africa and China. Azoteq has sales offices and distributors in South Africa, Asia, Europe and the USA.
IQ Switch®, ProxSense®, LightSenseTM, AirButton® and DYCALTM are trademarks of Azoteq (Pty) Ltd.
Editorial contact and interviews:
Kobus Marneweck
+1-512-538-1995
kobusm(at)azoteq(dot)com
http://www.azoteq.com