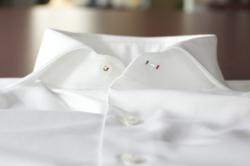 If the dandy with a live-in tailor could request a shirt for the next day, Bellucci Napoli aims to do the same: delivering a handmade bespoke shirt in 24 hours.
New York, NY (PRWEB) December 03, 2012
Bellucci Napoli is proud to introduce a groundbreaking event in the world of Bespoke: Epoca 24, a breakthrough innovation that celebrates the Sartorial tradition of shirt-making by accelerating the tempo without taking anything away from the craftsmanship and meticulousness that defines a handmade shirt. With Epoca 24, Bellucci Napoli achieves a perfect balance, combining the kind of intense attention to detail that has defined Neapolitan tailoring for the past three centuries with the instant gratification of a New York City shopping experience. If the dandy with a live-in tailor could request a shirt for the next day, Bellucci Napoli's master shirt-maker aims to do the same: delivering a handmade bespoke shirt in just 24 hours.
Each Epoca 24 client has the opportunity to option one of five shirts – only five 24-hour custom shirts are crafted daily at Palazzo Bellucci. Assembled by one master fabric-cutter and a team of seamstresses focusing on body and details respectively, Epoca 24 brings each team member's unique set of skills to life. As Bellucci Napoli's most exclusive and unique service, the Epoca shirt enjoys a number of unique and noteworthy details. The 'Insellata' cut - with its form-fitting armhole and angular shoulder-stitching that always sits on top of the shoulder - makes for an easier and more comfortable fit, with no extra fabric needed for natural movements and day-to-day wear. The collar is cut by hand and assembled with a special technique which allows it to stay in place whether its worn buttoned or unbuttoned. Seeing, feeling and slipping on an Epoca 24 shirt is bound to be an initiation - once tried there is no going back.
Despite the short delivery time, Epoca 24 is a bespoke shirt by definition and execution. Each measurement, style selection, fabric and design choice is overseen by the designer and master shirt-maker. With a range of quality cottons to choose from (including 21 year-round options and 9 seasonal ones), every Epoca 24 shirt comes with a complementary collar and cuff replacement which is stored in a personalized drawer at Palazzo Bellucci and washed to mimic the fabric's wear. While most companies have done away with this aspect of bespoke tailoring as replacing collars and cuffs can be costly and challenging, Bellucci Napoli ensures that the wear on the fabric is a perfect replica. With personalized aftercare for up to three years, each Epoca 24 client may change their shirt's collar and cuffs - and, even, opt for a new collar style altogether - simply by bringing (or sending) their shirt back to the Palazzo. There, the Bellucci Napoli Fabric Cellar will serve as a veritable archive where the client's pattern and fabric are kept to ensure that any additional Epoca 24 shirts will always meet expectations. Without foregoing the notion that a handmade garment is a time-consuming process, the talents at Palazzo Bellucci are determined to recreate and offer the same undivided attention and service to its clients as a live-in tailor. Entirely crafted and made in New York, the Epoca 24 shirt is Bespoke in one day.
For those who favor sartorial know-how but can allow a seven-day window for this special shirt to deliver, Bellucci Napoli also offers the Epoca 7d Connoisseur. With four additional steps by hand, the Connoisseur provides the bespoke shirt enthusiast with the ultimate in personalized experience. The Epoca shirt is also available in a basic 7d version which boasts the same exact quality and hand-crafted workmanship as the Epoca 24 with the added benefit of allowing those who need to trim their expenditure the pleasure of experiencing and owning a customized shirt in seven days.
Bellucci Napoli cares about the environment and practices 'green' bespoke. The Epoca 24, Epoca 7d Connoisseur and Epoca 7d are entirely hand-crafted in New York using sustainable materials with minimal carbon emissions. A percentage of the proceeds benefit the Ian Somerhalder Foundation.
-----
Nedo Bellucci has built his reputation as a talented designer on creating impeccable and flattering suits. The defining element of a Bellucci Napoli suit is the emphasis of the cut which consistently delivers an athletic and elegant garment designed to flatter and showcase every man's physique.
Bellucci Napoli is based in New York in the three-floor Palazzo Bellucci at 5 East 57th street. For information on how to order a Bellucci Napoli bespoke creation, please contact +1-212.207.8228 or info(at)belluccinapoli(dot)com.