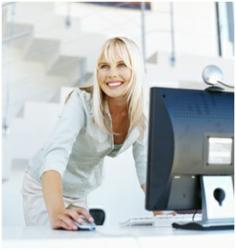 Launching at the holidays is really going to help women at a crucial time of the year.
Rhode Island (PRWEB) December 07, 2012
Inspiration Cosmetics is launching the Discover - Personal Live Webcam Makeup Consult today that will take the experience of the department store cosmetic counter and bring it into the privacy of the home, office or smart device. This new, one-of-a-kind experience gives an interactive, visual, one-on-one access to an expert makeup artist who will discuss all cosmetic needs. From the comfort and privacy of home, each women will have 15 minutes where the focus is completely on her. And don't think she can only talk about Inspiration Cosmetic products. This service is to empower women to make the most of the cosmetic products in their drawer, learn that favorite makeup technique or find their perfect and most confidence-boosting personal style. It is completely product independent.
"Many women are shy discussing their makeup needs and feel even more uncomfortable doing it when a mall-full of strangers are passing by," says Mari Vivace, President and CEO of Inspiration Cosmetics. "That's one of the reasons YouTube is overpopulated with makeup tip videos. Women have makeup questions, but they need answers tailored just to them. We have created a private, scheduled environment where each woman gets the attention, answers and focus she needs. It's simple. All you need is a computer/tablet with webcam and active internet connection. Then you sign into a private online makeup consultation, ask, and discover."
Whether she's seeking new techniques that are right for her, product assessments - IC's or others - or ideas for looks for a special occasion, she can have 15 minutes where the focus is solely on you and your needs.

Not buying just yet? Introductory consultations are only $95. If purchasing ensues, the money goes toward the product purchase.
Every client spending $95+ can schedule a complimentary, 15 minute, personalized webcam consultation with a professional makeup artist.
Artists are trained on identifying the unique beauty of everyone, brand concept as well as special tips and techniques learned from our celebrity makeup artist on staff. (He may show-up online occasionally too!). And a company secret ... the artists' love talking about proper blending.
Each artist also brings their own special views and skills for making women look their best. So every consultation has its own unique value.
The consults are fun, helpful and friendly. It's as if you are talking to your best friend who happens to be a highly skilled make-up artist.
Service is available from Monday - Friday 9 am to 9 pm EST, Saturdays 10 am to 4 pm EST, by appointment. We also will have artists on call for those looking for a session right away. However, availability is limited.
English only, for now.
Compatible with any webcam
Men aren't forgotten. They'll help with gift advice for their spouse or partners during the holidays.
AVAILABLE: only at http://www.inspirationcosmetics.com
"In our testing, we found that women had three challenges when buying make-up," Mari says, "They all 1) want to know the best way to adapt it to their personal style; 2) Want to understand the techniques that are right for their unique appearance and lifestyle; and 3) Are nervous to try new things when asking questions at the make-up counter. We wanted to take the guess work out of the process of buying and applying cosmetics while adding comfort and support. And, although this is an ongoing service, launching at the holidays is really going to help women at a crucial time of the year."
Cosmetic buyers should get immediate benefit, enjoyment and value from every purchase they make. Inspiration Cosmetics is committed to adding value. Discover – Personali Live Webcam Makeup Consult is just one of the many ways they do this every day.
About inspiration Cosmetics
Inspiration Cosmetics (IC) is dedicated to celebrating the inner- and outer-beauty of every individual woman. With the goals to assist, beautify, and empower women via self-driven inspiration and the awareness that every woman has unique personal value. The consumer and pro lines are high quality and high-pigment, with a focus on convenience, portability, and multi-purpose uses for each product. Feature products include "Empower" Toner, "Affirm" Foundations, "Announce" Lips and "Imagine" All-in Makeup Kit. Using best-in-class ingredients, Inspiration Cosmetics are developed to meet the needs of women with busy lifestyles who want to be able to look spectacular whatever the situation.
Rounding out the line is a service model that includes personalized webcam consultations and an online portal that encourages, engages, and empowers women. The Company is philanthropically partnering with Ford Model Monica Watkins's Art in Motion and several leading regional and international non-profits to create the Inspiration Project 2012 (http://www.theinspirationproject2012.com) focused on raising awareness and providing aide to combat human trafficking, commercial sexual exploitation, and to empower those who have experienced either. Being inspirational in the marketplace, within IC, and throughout the global community, is the focus of Inspiration Cosmetic's mission.