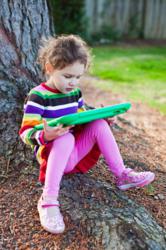 Gripcase makes it easier for little hands to hold the iPad and takes the stress out of the inevitability that it will be dropped or tossed across the room.
EVERETT, WA (PRWEB) December 10, 2012
Most parents can relate to the angst and nervousness felt when their young child grabs a hold of their iPad to play and learn. Well now parents can rest easy knowing their pricey "toy" is well protected and easily handled by even the smallest hands as the Gripcase™ launches to become the ultimate iPad case for maximum protection, portability and handling.
Gripcase's unique patented design features a "crumple zone" between the iPad's body and the bumper corner that absorbs the energy created during an impact and directs it away from the iPad. So when those tiny, awkward hands lose grip and the iPad goes tumbling down (or sideways or even across the room), the iPad is safe and sound in its very own cradle. In addition, that padded bumper doubles as a convenient, comfortable handle that makes it easy to handle while on the device as well as when it's carried around.
Gripcase is constructed of a proprietary foam compound designed specifically for the Gripcase product line. The uniquely blended material is formulated to be:

Lightweight, - just 7.05 oz
Shock absorbent
Resistant to surface abrasions
Mildew and bacteria resistant
Stain resistant
Washable
UV resistant
Fade resistant
"I designed Gripcase for personal reasons…I had a 2-yr old son who loved to explore and play on my iPad, but also who instilled a great amount of terror as I watched my investment get tossed around and dropped as he did his best to hold it," said Brian Norfolk, president and creator of Gripcase. "I wanted him to grow and have fun with his new `toy' but also wanted to protect the iPad. So after finding nothing on the market that was child-friendly and truly protective at the same time, I decided to create Gripcase to stand up to everything a 2-yr old could inflict and more."
The Gripcase retails for $39.99 at http://www.gripcase-usa.com and is perfect for children of all ages, special needs individuals, adventurers, and more. It comes in a variety of colors for the iPad 2 and iPad 3, including black, red, purple blue and green.
About Gripcase
Gripcase, based in Evertett, WA , designs and manufactures for maximum portability, handling, and protection of the iPad. With ergonomic handles, a lightweight, shock-absorbent foam body, and smart patented design, Gripcase provides the convenience, control and peace of mind for your technology investment. Gripcase supplies direct to the consumer; to institutional buyers such as schools, hospitals and daycare centers; as well as to corporate users looking for a competitive advantage with maximum protection, comfort and reliability. For more information visit http://www.gripcase-usa.com.