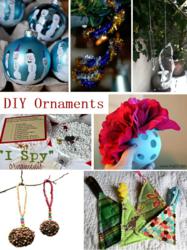 Homemade Christmas ornaments made by Kids make treasured keepsakes for years to come!
Dallas, TX (PRWEB) December 02, 2012
A massive collection of the most adorable homemade Christmas crafts and DIY ornaments made by kids has Moms blogging in numbers on Kids Activities Blog.
Among the most adorable crafts are making marble painted Christmas Ball Ornaments. Supplies needed are clear Christmas ornament balls, marbles, paint, and a ribbon. Gently take the ornament tops off and put a marble inside. Add a few drops of paint inside the ball. Optional supplies are floor wax and glitter to make variations in the pattern. With a gentle swirl motion move the marble and paint around inside the ball. Let the paint dry, gently put the top back on the ornament, and tie a ribbon around the end.
Turn the Christmas Ball ornament into a treasured homemade gift for family and friends by adding a nametag or note to the ribbon. For additional designs and tips to make DIY ornaments check out Kids Activities Blog.
Other Christmas craft ideas, among the 150+ homemade Christmas ornaments that are currently featured on Kids Activities Blog, are adorable I Spy Ornaments, cute Pine Cone People Ornaments, creative paper candy canes, funny handprint ornaments, super creative homemade icicles and many more. Come get inspired to create homemade Christmas ornaments with the kids this holiday season.
About Kids Activities Blog
Kids Activities Blog is a website created by two moms (who collectively have 9 children), Rachel Miller and Holly Homer from June Cleaver Nirvana. It is their daily goal to inspire parents and teachers to play with kids. This interactive website publishes simple things to do with kids twice a day. Kids Activities Blog is a great tool for moms and teachers to find kid-friendly activities that create memories and sneak learning into the fun.