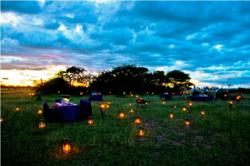 Tips touch on some of the lesser-known aspects of honeymooning on safari in Africa.
Denver, Colorado (PRWEB) December 10, 2012
No longer content merely lounging by a pool, couples are craving the exotic and memorable to start their married lives, according to Kent Redding, co-founder of Africa Adventure Consultants (AAC). Increasingly, that more adventurous take on the honeymoon involves an African safari – even for celebrity newlyweds like Jessica Biel and Justin Timberlake, who recently chose Tanzania for their post-nuptial getaway. To help couples keep their safari honeymoon experiences worry-free, the experts at AAC have released a tip sheet: "10 Tips for Smoothing the Way to the Perfect African Safari Honeymoon."
"You can still lounge by the pool on a safari honeymoon," assures Redding. "But why not make it a private plunge pool overlooking some of the world's most famous wildlife viewing?"
While an Africa safari honeymoon can be the adventure of a lifetime, taking advantage of the Africa Adventure Consultant staff's firsthand experience of African travel can ease some of the concerns newlyweds might have about embarking on such an exotic experience. The advice on AAC's newly released tip sheet includes practical advice like balancing the sometimes exhausting excitement of long game drives and early wake-up calls to catch wildlife at its best with setting aside time "to enjoy Africa's quieter side" with a couples massage under the African Sky, the romance of a candlelit bush dinner, or sleeping in and relaxing by a private pool with up-close wildlife encounters.
The new tip sheet also emphasizes the importance of spending enough to create the kind of once-in-a-lifetime experience the couple has envisioned. "Splurge," suggests tip number nine. "And if you need a little help, a growing trend has couples requesting money to help create special experiences in place of more traditional wedding gifts, often using online websites like honeyfund.com to point gift-givers in the right direction."
Other tips touch on some of the lesser-known aspects of honeymooning on safari in Africa, such as the fact that most camps have laundry service so couples can pack lighter and save room for souvenirs, or the variety of adventure activities available from shark cage diving to a horseback safari – or that unique dining experiences can make it a great opportunity to let go of pre-wedding diet restrictions and indulge a little. The full tip sheet is available on the Africa Adventure Consultants website.
Mixing adventure and romance is nothing new for AAC President Kent Redding, whose partner in founding AAC is wife Kelly McElroy. "We understand the potential of travel to provide profound connections and enduring memories," says Redding. "Every couple's dream honeymoon is unique. Couples can start with one of our five honeymoon tours or start from scratch, requesting a completely customized itinerary."
Africa Adventure Consultants offers romantic-adventurous 8-to-11-day honeymoon tours around itineraries based in Victoria Falls/Botswana, Kenya, South Africa and Tanzania, with many other safari destinations and focuses, from voluntourism to mountain climbing, also available. Details on all of the AAC luxury African honeymoon safaris are on the company website at http://www.adventuresinafrica.com.
Company Information: Africa Adventure Consultants is a leading safari company specializing in crafting custom itineraries to 13 countries in Africa, from classic photo safaris and adventure trekking to luxury honeymoons and family holidays. The staff at Africa Adventures Consultants has lived, worked, and traveled throughout Africa, giving them an insider's perspective on how to create the best safaris in the continent's top destinations. AAC offers personalized tour planning to Botswana, Egypt, Ethiopia, Kenya, Malawi, Mozambique, Namibia, Rwanda, South Africa, Tanzania, Uganda, Zimbabwe and Zambia. In addition to creating customized private journeys, AAC offers more than 20 group trips, including gorilla safaris in Uganda and Rwanda, Kilimanjaro climbs and migration safaris. For additional information, visit http://www.adventuresinafrica.com.
Media Contact: Darla Worden, WordenGroup Public Relations, darla(at)wordenpr(dot)com, 303.777.0635