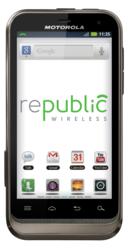 We are inverting the status quo with a WiFi smartphone that routes as much as possible – voice, text, and data – over Wi-Fi whenever possible. When Wi-Fi is not available, our smartphone works just like a regular phone on the nationwide network of Sprint
Raleigh, NC (PRWEB) December 12, 2012
A much-anticipated Wi-Fi smartphone plan that costs just $19 per month became widely available today as Republic Wireless began nationwide shipments of a new breed of smartphones. The service is already a hit with holiday shoppers looking for no-contract service that delivers value and performance.
The plan offers unlimited data, text and voice for $19 per month, a small fraction of the average monthly wireless phone bill. Republic Wireless keeps rates low with a Hybrid Wi-Fi cellular Calling network that uses a combination of home, office and public hot spot Wi-Fi as its primary network and the nationwide network of Sprint when Wi-Fi is not available.
Republic Wireless CEO David Morken said the launch follows a year of intensive work by his team, which included beta testing with thousands of subscribers. He said the past year's work has provided strong validation that the company's Wi-Fi-first approach is a winner.
Market data supports Wi-Fi Smartphone for talking and texting as well as data
"We saw Wi-Fi becoming ubiquitous and cheap, while cellular spectrum has become increasingly expensive and controlled from the top," Morken said. "So we set out to invert the status quo, by routing as much as possible – voice, text, and of course data, over Wi-Fi whenever possible. When Wi-Fi is not available, our smart phone works just like a regular phone on the nationwide network of Sprint."
The WiFi smartphone is poised to be a disruptive force in the wireless industry. The Wireless Broadband Alliance reports worldwide public hotspots continue to increase rapidly, and an April 2012 report from industry analyst firm Strategy Analytics estimates 61% of all US households currently have Wi-Fi networks installed at home.
"This is a story about the way smartphones should be – a smart phone with a smarter phone plan. Republic Wireless is all about providing great benefits and returning value to consumers with a Wi-Fi smartphone," Morken adds
Republic Wireless is shipping the Motorola DEFY XT, available for $249 on the company's website, plus a $10 start-up fee and applicable taxes. The plan is pay-as-you-go, with unlimited data, text and voice calls, backed up by a 30-day money back guarantee.
The dual-band Android CDMA handset features a 3.7-inch Corning® Gorilla® Glass display, VGA webcam, and 4x digital zoom camera with auto-focus and LED flash. It is compact and lightweight and delivers rugged, water-resistant performance.
Republic Wireless offers quick and simple signup for the game-changing WiFi smartphone on its website, where purchasers click on buttons to select the phone, set up their phone number and proceed to checkout.
About Republic Wireless
Republic Wireless, a division of Bandwidth, headquartered in Raleigh, North Carolina, is spearheading a wireless freedom movement to return value and control of the smartphone experience to members by leveraging the power of Wi-Fi and an engaged community of users. Republic Wireless offers truly unlimited data, text, and voice service for $19 per month, with no contract. Our Hybrid Calling uses Wi-Fi in the home, office or anywhere else as the primary network for calls, texts and data. When outside of Wi-Fi coverage, the smartphone works just like a typical cellphone on the national cellular network of Sprint. Visit http://www.republicwireless.com/ for more information.